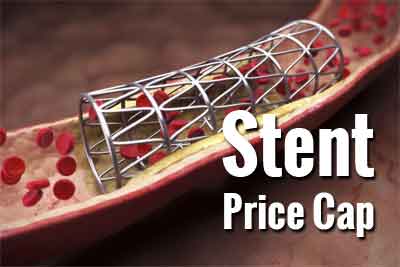 The recent decision of the NPPA defining price ceiling on BMS and DES/BVS stents as Rs 7,260 and Rs 29600, respectively has immediately fallen into a series of controversies, with the consumers and the industry reacting in extreme opposite directions
Read also:Stent Prices Capped at Rs 29,600, profits slashed
Patients Welcome, Industry Oppose
The NPPA's decision has indeed receive mixed reactions. Naturally, patients and end consumers of the stents were seen welcoming the move. "We are pleased that the NPPA took note of the extraordinary circumstances in respect of the unmet health need and the prevailing conditions of extreme overpricing of stents and exploitation of patients. We strongly support the use of Paragraph 19 of the DPCO to set right the balance in favour of the public interest," Malini Aisola of the All India Drug Action network told  Express .
Having said that, the decision seems to have not gone well with the industry. "The medical technology industry is disappointed with this outcome. The industry was expecting a reasonable price along with rational differentiation in drug eluting stents, to recognize innovation," said Himanshu Baid, CII Medical Technology Division Chairman speaking to UNI.
Since the order has to be followed with immediate effect, the industry has raised apprehensions that the stent industry would face a stifle challenge in the days to come.The stent makers have noted some of the challenges it would face in near future include recalling and re-labelling the stents which are already sold, could pose health risk as sterility needs to be maintained while packaging.The industry also urged NPPA to immediately amend the order with a rationale transition timeline.
Withdrawal of Stents- Relabelling or Hoarding?
 A recent report in Mumbai Mirror stated that Scores of angioplasties in the Mumbai were put on hold on Thursday after Abbott Pharma withdrew bioresorbable stents from all hospitals, claiming it could not afford to sell the stents at prices recently mandated by the National Pharmaceutical Pricing Authority (NPPA). This indeed became a problem for the city as Abbott is the only manufacturer supplying bioresorbable stents in India. The reasoning cited by an Abbott official stated "Yes, we have withdrawn stents from hospitals, but maybe it is to relabel the prices as decided by NPPA"
Artificial Shortage?
Government officials have been quick to announce that the price ceiling may have led to hoarding of Stents by companies and dealers. Acting over the artificial shortage of stents, the National Pharmaceutical Pricing Authority (NPPA), Drug Controller General India (DCGI) as well as Health Ministry have been asked to ensure compliance of price capping and adequate availability of coronary stents in the market at the earliest.
Pharma Secretary Jai Priye Prakash told PTI , "We are keeping an eye on all those who are engaging in unethical practices such as creating artificial shortage of stents, not abiding by the fixed ceiling price etc, against whom strict action will be taken."
The NPPA in recent order has shown the objection on re-labelling or re-stickering, thus the NPPA stated that, "The manufacturers recalling or re-labelling or re-stickering on the label of container or pack of released stocks in the market prior to date of notification (February 13, 2017), shall ensure that adequate stocks are maintained to avoid shortage of such coronary stents. However, it does not mean that revised prices get deferred for the stock in circulation. The price change takes place with immediate effect."
1 comment(s) on Stent price Cap: Stents Withdrawal, Artificial Shortage, delayed angioplasties