Stop Sending us recommendations to admit patients : AIIMS Doctors write to ALL MPs and MLAs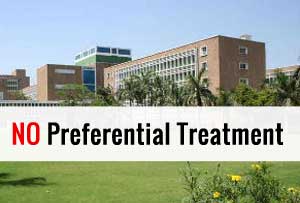 New Delhi: Tired of receiving recommendations of admissions from politicians asking them to give preferential treatment to the bearers of the letters, AIIMS doctors have now written back to all the MPs and MLAs across the country asking them to stop recommending patients at AIIMS Delhi.
Taking a serious concern towards the patients who need the medical treatment and do not have any recommendations from MPs and MLAs, the doctors said that instead of recommending patients to AIIMS Delhi, the ministers should improve the medical facilities at their localities.
The resident doctors association in its letter stated that India is a country of 1.2 billion people with most of the healthcare system is dependent on tertiary care hospitals like AIIMS. Many of the patients from far off areas come to AIIMS for better treatment. Many of the patients have a reference letter from their local MPs or MLAs with recommendations for admission.
" Tertiary care hospitals have limited beds and facilities so it's the disease which will get consideration for admission, not the letter from ministers." the letter stated
"Whenever the politicians send any recommendation letter to tertiary care hospital, please send the copy of it to prime minister office and union health ministry with demanding the same facilities of healthcare in your area which you think is only available in tertiary care hospital at Delhi." the letter added
"We receive two to four thousand recommendations daily on letterheads of MPs and MLAs. How are we supposed to treat patients who do not have these sifarish ? " asked AIIMS Resident Doctors' Association president Dr. Harjit Singh Bhatti told Medical Dialogues