Strike Alert: BHU Medicos beaten with bricks, Resident Doctors refuse to provide services
Varanasi: Health services at one of the biggest medical institutes in the country, Institute of Medical Sciences (IMS), Banaras Hindu University, Uttar Pradesh, came to a standstill after around 450 of its resident doctors called for OPD shutdown. The strike pursued in view of the recent brutal assault at 2 resident doctors wherein 5 oppressors threw bricks at them giving the doctors severe injuries.
Demanding doctor's safety at the workplace, most of the services at the hospital were stopped. The doctors have threatened to stop emergency services as well if the concerned authorities fail to consider their legit demands.
According to doctors, the incident took place on November 3rd. Two doctors were brutally assaulted near the Special ward of the SSL hospital attached to the institute. It has been alleged that a group of 5 unidentified men stopped their bikes in front of the ward and asked for a stethoscope from the resident doctors who were passing by. When the doctors denied, they snatched the stethoscope and started beating them with it, then began throwing stones at the doctors. The assault went on for 10 to 15 mins rigorously and after that, the men absconded.
During the incident, there was no security personnel available. Following the attack, both the doctors sustained major injuries. While one doctor suffered right ear bleed and traumatic preparation of tympanic membrane with several abrasions and contusions; the other has sustained severe injury behind his ear.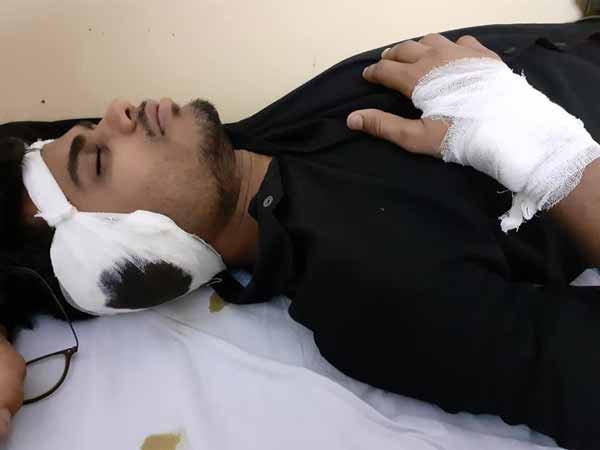 The incident consequently created major uproar within the hospital and further condemning the attack the doctors have resorted to strike demanding security at the workplace.
The doctors have further demanded that the culprits involved in this assault are booked under MPA and other relevant IPC sections. Raising slogan as save the saviors, the doctors have urged the concerned authorities to increase the security at the institute and implement specific channelization for patients coming to Hospital.
Resident doctors have stated that no concrete action has been taken by the university and hospital administration regarding their demands. They have sent a notice to the university administration that if the same situation prevails, the emergency service will also be stopped after the next 72 hours. It will be the responsibility of the university administration. Earlier, the institute's director, Prof. RK Jain, chief professor, Prof. OP Rai, the dean of students' welfare, and several officials met the resident doctors. Officials said the culprits should be apprehended soon, reports