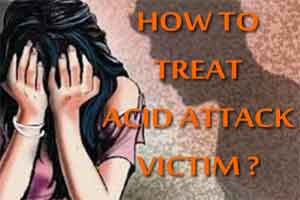 Acid attacks have unfortunately become a ugly face of the Indian Society. Even with the innumerous efforts being made by the government and society members alike to put an end an end to this curse, the attacks still continue. Medical Profession in such circumstances, has been endowed with a very important responsibility to not just provide treatment, but also comfort and guidance to the victims of acid attack.
Keeping this in mind, Supreme court of India in the case of Laxmi Versus Union of India, issued some important guidelines regarding the treatment of acid attack patients which are necessary for all healthcare providers to know about. With this important judgement the Supreme Court brought under ambit all private hospitals to provide free medical treatment to acid attack victims. The hon'ble court made the following DIRECTIONS:-
Full medical assistance should be provided to the victims of acid attack and that private hospitals should also provide free medical treatment to such victims
No hospital/clinic should refuse treatment citing lack of specialized facilities.
First-aid must be administered to the victim and after stabilization, the victim/patient could be shifted to a specialized facility for further treatment, wherever required.
 Action may be taken against hospital/clinic for refusal to treat victims of acid attacks and other crimes in contravention of the provisions of Section 357C of the Code of Criminal Procedure, 1973.
The hospital, where the victim of an acid attack is first treated, should give a certificate that the individual is a victim of an acid attack. This certificate may be utilized by the victim for treatment and reconstructive surgeries or any other scheme that the victim may be entitled to with the State Government or the Union Territory, as the case may be.
In the event of any specific complaint against any private hospital or government hospital, the acid attack victim will, of course, be at liberty to take further action.
The State Governments/Union Territories should seriously discuss and take up the matter with all the private hospitals in their respective State/Union Territory to the effect that the private hospitals should not refuse treatment to victims of acid attack and that full treatment should be provided to such victims including medicines, food, bedding and reconstructive surgeries.
Following the guidelines of the SC, Delhi government also issued guidelines to all private hospitals for treatment of acid attack patients while drawing to the Criminal Law (Amendment) Act,2013 (No.13 of 2013), Vide Which, Section 357C was inserted in the Code of Criminal Procedure, 1973 Which Provides-
"357C. All hospitals, public or private, whether run by the central Government, the state  Government, Local Bodies or any other person, shall immediately, Provide First-aid or medical treatment, Free of cost, to the victim of any offence covered under Section 326A, 376,376A, 376B, 376C, 376D or 376E of the Indian panel code and shall immediately inform the police of such incident."
Further Attention was drawn by the government to clause 14.2 of the schedule appended with the Rule 14 of Delhi Nursing Homes Registration (Amendment) Rules, 2011 which provides as Under;
"14.2 The Nursing Homes shall not Refuse, Treatment to the injured/serious patient brought to them due to any reason, whatsoever"
The Delhi Government wide its circular also drew attention to the repercussions of not following the provisions of the law
Non-compliance of the aforementioned directions by defaulting hospitals/ Nursing Homes shall Attract appropriate disciplinary action including cancellation of registration and wherever necessary action will be taken against the defaulter under the provision of contempt of courts Act Read with Article 215 of the Constitution of India
You can get a copy of the Supreme Court judgement by clicking on the link below
http://courtnic.nic.in/supremecourt/temp/wr%2012906p.txt
You can get a copy of the Delhi government order on the link below
Read Also
2 comment(s) on Supreme Court Guidelines to treat acid attack patients