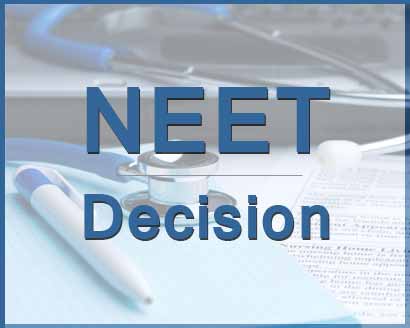 Putting an end to the long waiting game for lakhs of the medical students across the country, Supreme Court has finally pronounced the judgment, defining the fate of National Eligibility-cum-Entrance Test this year. Refusing the states in their plea to hold their respective exams, the court has clarified that ONLY NEET would enable students to get admissions to MBBS or BDS studies
The decision comes after a week-long discussions and arguments in the court, with various states giving their arguments opposing the exam to be the one and only exam to entrances in various medical colleges of the country. While the fate of private medical colleges had been made clear in the previous order (No separate entrance for private medical colleges), the Supreme Court today made it clear that even the states will not be allowed to hold their separate exams. All entrances will go through the NEET
Slamming the arguments of the states on the jurisdiction over medical entrance examination, the court stated
Prima Facie, we do not find any infirmity in the NEET regulation on the ground that it affects the rights of the states or private institutions. Special provisions for the reservation of any category are not subject matter of the NEET nor the rights of minority are in any manner affected by NEET. NEET only provides for conducting entrance test for eligibility for admission to the MBBS/BDS course. We thus, do not find any merit in the applications seeking modification of order dated 28th April, 2016
While rejecting the plea of the states to hold their own exams , the hon'ble Supreme Court allayed the fears of those students, who had lost precious time and energy and as a result of the ongoing confusion and hence not performed upto their mark in the first phase of NEET-I
The only other contention relates to the perceived hardship to the students who have either applied for NEET-I but could not appear or who appeared but could not prepare fully thinking that the preparation was to be for only 15% All India seats and there will be further opportunity to appear in other examinations.
To Allay such apprehensions the Supreme Court has directed that
All Such eligible Candidates who could not appear for NEET-I and those who had appeared but have apprehension that they had not prepared well, be permitted to appear in NEET-II, subject to seeking an option from the said candidates to give up their candidature for NEET- I.

It would be open to the respondents ( i.e UOI, MCI, CBSE) to reschedule the date of holding NEET-II, if necessary. To this extent the earlier ordered and modified.
The hon'ble court extended the scope of functioning of the earlier appointed OVERSIGHT COMMITEE ( for the MCI) directing them to oversee the NEET examination as well
The court stated
To ensure the total credibility of the examination to be held by the CBSE, the Oversight Committee appointed by this court vide the (aforesaid) judgment dated 2nd May, 2016 shall also oversee the NEET-II examination to be conducted by the CBSE.
Read Also: Retd Chief Justice to oversee all MCI operations
8 comment(s) on Supreme Court Pronounces NEET judgement : Read the details