Tamil Nadu: Gynac gets six month suspension for leaving cotton in body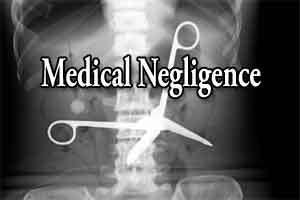 Botched surgeries are appearing to be the one of the leading reasons for doctors' suspensions, in the country. Members of Tamil Nadu Medical Council have reported that at least two doctors are suspended every year for leaving sponges, equipment or other things in side a patient during surgery.
The members highlighted a recent case to
TOI
, whereby on February 15, the general council barred Chennai-based gynaecologist D Rajasekar of Women and Children Foundation from practising medicine for six months for gossypiboma - the medical term for cotton left behind in the body - during a caesarean section
"When we anaesthetise patients, we take away their ability to independently move, think or breathe. We open them up and perform the surgery . Leaving things behind without following a thorough check is unfair," TNMC's K Senthil told Times of India.
While exact statistics of such incidents taking place in the country are not available, ASI ( Associations of Surgeons of India) estimated majority of the 5000 surgeons in the country have done so at least once in their career. "In some cases, the team catches it before closing the patient, sometimes not," said Gurgaon-based president of the Association of Surgeons of India Dr Suresh Vasistha.
In undetected cases, there were later reports of infections, organ damage and even death.
Although the medical council has pulled up doctors, courts in Tamil Nadu have been reported to be lenient in most operative and pre-operative procedures.The number of cases in which doctors have been pulled up for negligence during surgery has come down in Tamil Nadu, said Mahendrakumar Bajpai, an advocate in the Supreme Court.
"What the court has punished doctors for is going on leave soon after an elective procedure," he said. Nevertheless, he said, the courts were being hard on doctors when provided evidence of negligence. "In the case of leaving sponges behind, there are medical reports and opinions, which are firm pieces of evidence," he said.
In operating rooms, nurses keep count of the sponges a surgeon uses during a procedure but in a chaotic emergency environment, miscounts do occur, and sponges may land up on the wrong side of the stitches. To avoid these, most hospitals have two nurses -a surgeon's assistant and a circulating nurse. While the first helps the doctor, the circulating nurse goes around the table to collect used equipment and sponges. The circulating nurse counts and recounts every sponge used in the procedure. In addition, a floor nurse, who is not part of the team, does another manual count.