Tamil Nadu: Mettur Government Hospital alleged of medical negligence for loss of vision in 16 patients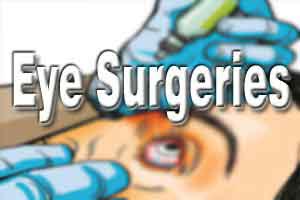 Tamil Nadu: 16 patients have reportedly lost their vision after they went through a cataract surgery at Mettur Government Hospital. This is the recent allegation with the government hospital in the state after it operated a total of 23 patients. It has been alleged further that the patients later suffered from severe infection, lost their vision post-surgery, as implied by the hospital sources. The patients underwent a surgery free of cost at the hospital.
The patients underwent the surgery at the hospital between June 14 and 16. People hailing from Mettur, Kolathur, Macheri and Omalur areas came to the hospital to undergo surgery free of cost. They were later discharged on June 18
th
. However, just two days later, 16 of the patients reported suffering from pain in the eye which was operated upon at the hospital. Two days after they were discharged, 16 of the 23 patients suffered severe pain in the operated eye.
One of the patients implied that after she was not able to bear the pain, she decided to approach the hospital. However, the doctors were no help there, she alleged. Later, she lost her vision and the eye drops prescription at the hospital offered no help either thereafter.
Similarly, 15 more patients reported loss of vision. The doctors have confirmed that there is a severe eye infection. These patients were referred forward to Aravind Eye Hospital in Salem; out of which 6 patients were also sent to the Aravind Eye Hospital in Coimbatore to get treated further.
On Friday, relatives of four patients assembled before the Mettur Government Hospital and spoke to the media about their predicament.
"The doctors at the private hospital say that chances of regaining vision are minimal. We want the government to take stern action against those responsible for this," said P Sureshkumar, a relative of one victim to
TOI
.
In the meantime, health department officials have started an inquiry, involving the patients and doctors in Mettur. The investigation team is being headed by joint director of medical (incharge) Dr. Inbasekaran. The inquiry has been initiated, with patients interrogation on the matter.  The team is also reported to have paid a visit to the Aravind Eye Hospital along with district collector V Sampath; where they stated that the surgical procedure was flawless.