Telangana Health Minister launches Mobile Dental Hospital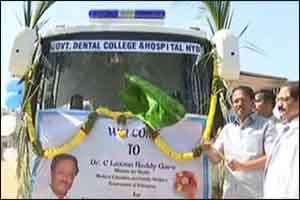 Hyderabad: Telangana Health and Medical Minister C. Laxma Reddy, launched the Mobile Dental Hospital in Hyderabad.
The Mobile Dental Hospital has been established by Osmania Medical College. Addressing the media during the launch event, Reddy said the vehicle has been launched as part of social dental service programmes.
He further informed that dental camps are being organised across remote villages for the welfare of the masses. The initiative aims to improve oral health and hygiene across the state.
Speaking to The Hans India, Dr P Bal Reddy, Principal, Osmania Government Dental College and Hospital said this was a new concept, treating patients at their doorstep, as Below Poverty Line (BPL) people were not able to afford to travel from villages to the hospitals in towns. "Such people continuously postpone the dental treatment and due to the delay, they have severe tooth problems. To conserve the teeth, the community dentistry department has come up with this mobile dental hospital," he said.