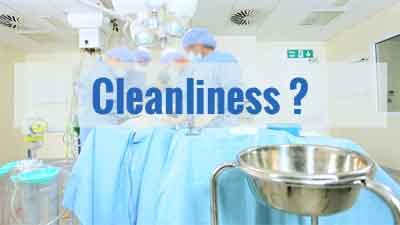 Mumbai: Raising questions on the issue of hospital cleanliness, senior orthopedic surgeons at a Municipal Hospital in the city, stopped a patient's surgery midway to focus on clicking and filming cockroaches roaming freely in the operation theater.
The incident took place on Friday in the operation theatre of the 500-bed Chhatrapati Shivaji Maharaj Hospital (CSMH) and the Rajiv Gandhi Medical College run by the Thane Municipal Corporation (TMC).
Suddenly noticing two large cockroaches crawling, some members of the operating team halted the surgery, whipped out their mobiles and clicked photos and videos of the unwelcome visitors. The doctors soon got back to the surgery, and successfully finished the operation. The doctors then submitted the video to the hospital authorities, casting severe doubts on the cleanliness initiatives taken by the hospital. Obviously, an operation theater is a place where  the presence of even germs, let alone bugs cannot be tolerated.While speaking with Media, Orthopaedic surgeon Dr Sanjay Baranwal said, "I have already submitted the video to the hospital authorities; I can't comment further." He further pointed out that this is a routine phenomena at the hospital. Dr Baranwal added that he had made several complaints about the uncleanliness in the operation theater (OT) but little was done.
Another senior doctor said many patients had developed postoperative infections at the hospital in the past month. "Ideally, in a super-speciality hospital, there is an infection control committee that ensures high cleanliness standards. It regularly takes swabs from ICUs and wards. But here, nothing of this sort has been done for a long time," the doctor told Mumbia Mirror, which first brought the story to light. The daily further reports that while as a protocol, every OT should be washed and fumigated every week, which was not being carried out at the said hospital.
The pictures and videos of the cockroaches went viral on social media and television networks, raising serious questions about the hygiene levels in the sanitized environs of the operation theatre at a prestigious hospital.
"A fortnight ago, a similar incident was noticed but there was no evidence. So nobody believed the doctors and nurses," said a hospital official requesting anonymity.
The medicos claimed that despite repeated requests to the hospital and civic authorities to carry out pest control on the premises, their pleas fell on deaf ears. If resident doctors are to be believed, the hospital allegedly has a high rate of post-operative infections, which is attributed to lack of hygiene and cleanliness besides irregular pest control even in sensitive zones.
6 comment(s) on Orthopedic Surgeon Halts surgery to shoot video of Cockroaches in OT