There is lot to done for healthcare: VP at JIPMER Convocation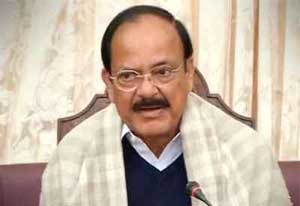 Puducherry: Vice President M Venkaiah Naidu Friday said the country was currently in a "transformational phase" with the expansion of basic services such as healthcare.
A visit to primary health care centres or super speciality hospitals like JIPMER and the All-India Institute of Medical Sciences (AIIMS) would indicate there is so much that needs to be done, he said.
"Our country is in a transformational phase. We are focusing more and more on expanding basic services including the healthcare to all our citizens, We are seeking to actively forge public-private partnerships to accelerate progress," he said.
Addressing graduates of the Jawaharlal Institute of Postgraduate Medical Education and Research (JIPMER) at its ninth annual convocation, he said, "the health care needs of our vast and diverse population are huge."
For quality healthcare to become affordable to many segments of the population, the Centre recently initiated the 'Pradhan Mantri Jan Arogya Yojana', he said.
Effective implementation of the programme can change the healthcare scenario in the country, he said.
Institutions like JIPMER can play a key role in the thrust on affordable, quality health care, he said.
The vice president asked the medicos to be aware of the innovations in medicine and also be active researchers and thinkers.
Complimenting JIPMER for achieving great progress in research, he said the service of the hospital has been rated high and it has been ranked the sixth best in the country.
A 50-acre site has been made available by the Puducherry government to JIPMER to set up its multi-organ transplant facility and a trauma care centre, he added.
Union health minister Jagat Prakash Nadda, who presented degree certificates to outgoing graduates, said JIPMER should implement several flagships and path-breaking measures as instructed by prime minister Narendra Modi in ameliorating health care service.
Lieutenant Governor Kiran Bedi, Chief Minister V Narayanasamy and leader of the opposition N Rangasamy were among those present.