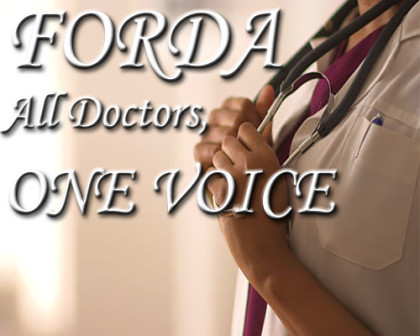 Its been more than four months that the resident doctors in Delhi went on a strike under the banner of FORDA ( Federation of Resident Doctors Association). More than four months since the government while invoking ESMA ( Essential Services and Maintenance Act) gave promises to fulfil the demands in a time bound manner. More than four months now, promises are yet to be fulfilled.
FORDA held a meeting to take stock of the current situation at various govt hospitals and development of work on the promises made by the CentralGovt./ Delhi Govt/MCD during the last strike done by FORDA in June.
The meeting was attended by over 25 RDA presidents and general secretarties from 15 Govt hospitals were present to discuss and take stock of the situation at hand. During the meeting it has been confirmed by all that even after 4 months since the strike was called off after promises and action plan by Central Govt./Delhi govt/MCD, no work on ground has taken place. Resident Doctors are still finding it difficult to meet basic standard of living in various govt hospitals. clean drinking water, clean toilets is still a dream for resident doctors.
Following is the current statuses of the demands made by FORDA and the actual status of promises by the authorities from Central Govt./Delhi Govt./MCD.
| | | |
| --- | --- | --- |
| Demands | Promises/Assurances | Actual Situation |
| Security | 500 Home guards were deployed in 17 hospitals and further increase in security guards. A list of 9 other hospital was given for deployment home guards | Home guards are inefficient and the security issue is still a big concern by looking at recent incidences of assaults in GTBH and MAMC |
| Generic drugs & Surgical consumables | 100% were to be made available by 15th Aug. 2015 | At times patients had to bring medicines & even sutures are NA at times in emergency |
| Operation Theatres | Non-functional OTs to be made operational in 2 months time | Em. OT are non functional in many hospitals like MVH, SRHC |
| Salary | To be disbursed by 7th of every month | Most of the residents receive salary only after 15th of every month |
| DDR renovation | To be renovated in 3 months | Most of DDRs are still awaiting their renovation |
CENTRAL GOVERNMENT HOSPITALS
| | | |
| --- | --- | --- |
| Demands | Promises/Assurances | Actual Situation |
| Residency Scheme | Was made in consultation with MS/Director of all 3 central govt. hospitals and FORDA members in March 2015. Would be notified as soon as possible | No notification has been issued by MOHFW, India |
| DDR renovation | Was promised at the earliest | DDRs are in pathetic/filthy condition |
| Security | Was to be upgraded | No action has been taken yet |
| Accommodation of resident doctors | The existing hostels were to be renovated and promises were given for construction of new hostels | Renovation work done in few rooms. The roofs are leaking/seepage in most of the rooms. |
MCD
| | | |
| --- | --- | --- |
| Demands | Promises/Assurances | Actual Situation |
| Security issue | More number of guards to be deployed in critical areas | No action has been taken |
| End of culture of ad-hocism of 44 days | Interview for regular doctors to be initiate within 2 weeks | No action has been taken and 44 days work culture is still persisting at all levels in HRH. Only SDN have conducted interview for Regular SRs/JRs |
| Repair & renovation of DDR | At earliest | No action has been taken |
| Life Saving medicines | Would be made available at the earliest | No action has been taken |
| Salary | On time | Almost always delayed by a month or so. |
| Grade 4 staff to be increased | Promised to reallocated | No action has been taken |
" We were promised a monthly review meeting with the health secretary and one meeting with the health minister. But none of that has happened." said Dr Pankaj Solanki, President FORDA
Regarding the future actions to be taken by FORDA he said, " We are not going to leave this issue. We are going to write to Prime Minister as well as the Chief minister to intervene and look into the welfare of resident doctors. Moreover, to take out Fight forward we are organizing the first Resident doctors convention in Feb 2016 where the problems of resident doctors will be addressed and resolution to the problems shall be found."
0 comment(s) on Four months since Doctors Strike in Delhi, promises still on hold