TOP Healthcare Organisations join hands on NCDs at National Health Conclave 2017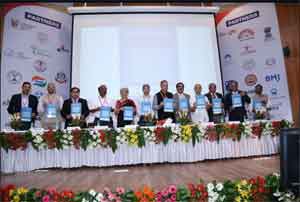 Themed Chronic care - Innovation Opportunities and Challenges for India, the Conclave launched Health Quest, a first-of-its-kind compendium of best practices on Emergency Medicine and Critical Care jointly developed by SEMI, AHPI ISRO, NBE, PHFI and other partners.
New Delhi: Recognising that India is experiencing a rapid health transition with a rising burden of NCDs, now considered as a developmental burden, Association of Health Providers India, Public Health Foundation of India, Indian Council of Medical Research, Indian Space Research Organisation, National Board of Examinations along with other key partners from government, research institutions, academia and international agencies joined hands to organise the National Health Conclave 2017 with the theme Chronic Care – Innovation, opportunities and Challenges.
In his inaugural video address Sh. JP Nadda, Union Minister for Health and Family Welfare, Government of India "Combating NCDs is one of the most significant challenge for the public health community globally and our government is geared up to tackle the chronic disease epidemic efficiently and effectively. I am glad that the National Health Conclave 2017 is developing a road map to address the issues related to Chronic Care Conditions that is a need of the hour. I am sure that the Conclave will be a constructive step towards a multi-sectoral collaborative approach to strengthen healthcare systems in India by bringing all stake holders on one platform to find constructive and lasting solution."
Non-Communicable Diseases (NCDs) are now considered as a developmental burden where, out of 56 million global deaths, 38 million deaths were due to NCDs in 2012. Almost three quarters of all NCD deaths (28 million) & the majority of premature deaths (82 percent) occurred in low-and middle- income countries. (Global Status Report on Non Communicable Diseases, 2014). Cumulatively, NCDs contribute to huge losses in productive years of individuals resulting both in catastrophic health expenditure at individual level and macroeconomic loss at national and international level. Accounting for 63% of the annual global death toll and for untold morbidity and disability, non-communicable diseases (NCDs) have become the dominant public health challenge of the 21st century. NCDs not only have a serious impact on human health, but also on economic growth as India stands to lose $ 4.58 trillion (Rs 311.94 trillion between 2012 and 2030 due to non-communicable diseases.
In her address Dr Soumya Swaminathan, Director General, Indian Council of Medical Research in her address lauded the organisers AHPI and PHFI for getting a huge number healthcare organizations and relevant stakeholders together to discuss and create a strategy to tackle the prevalence of NCDs in the country under the umbrella of National Health Conclave Alliance. "NCDs requires action at different levels and at various times we have been flagged about the high prevalence of NCDs, especially after multiple data has raised concerns over India's alarming malnutrition rates and disease burden. There is a huge potential for control and prevention of NCDs through early screening and we need to emphasize on understanding the social-economic and cultural contexts in countering the rising NCDs, further laying stress on social behavior change. I am glad that this conclave has a multi-sectoral and convergent approach for prevention and control of NCDs, and can advise the government on advocacy, awareness, access, alliance and accountability towards NCD control in India."
Dr Alex Thomas, Organising Chairman of the Conclave and President AHPI in his address said "Advancement in science has led to a fair level of success in our fight against communicable diseases. However we are now being faced with an alarming increase in the number of Non – communicable diseases. Most of the NCD's are chronic and are associated with a huge loss of potentially productive years (35-64yrs) and also account for 42% of all deaths.  NCD's are a great "equaliser" affecting both sexes, rich and poor, urban and rural in almost equal proportions. In order to strengthen the fight against NCD's, we at AHPI along with PHFI and other key partners have joined hands to organise the National Health Conclave 2017 with the theme Chronic Care – Innovation, opportunities and Challenges."
Representing PHFI at the National Health Conclave 2017, Prof D Prabhakaran, Vice President Research and Policy, PHFI, said, "As a key partner to this Conclave, PHFI reaffirms its commitment to embark upon a renewed roadmap to address the current constraints in the health system to effectively manage NCDs and its associated complications in India. Through our globally acclaimed courses, quality educational and research initiatives coupled with technology wherewithal, we are confident that the healthcare community will be able to clinically diagnosis and manage NCDs through a more systematic and structured approach, augmenting the government's agenda towards successfully rolling the National Health Policy 2017 and meeting the Sustainable Development Goal on health."
At the National Health Conclave, Indian Space Research Organisation (ISRO) launched its first healthcare intervention, Health Quest, a compendium of best practices on Emergency Medicine and Critical Care jointly developed by ISRO along with representatives of specialists from Society of Emergency Medicine India [SEMI], Indian Society for Critical Care medicine [ISCCM], National Accreditation Board for Hospitals and Healthcare Providers  [NABH]  Consortium of Healthcare Organizations [CAHO], Association of Healthcare Providers India  [AHPI], Public Health Foundation of India and NBE.
The conclave brought together all stake holders, including the Government, Research Institutions, Academia, Industry, Public health experts, community and International agencies on one platform to deliberate and evolve strategies to combat the looming threat of NCDs where India is unfortunately slated to become the country with the largest number suffering from NCDs in the world. Through various targeted sessions, the Conclave will deliberate on knowledge on innovation, quality improvement, policy regulations and human resource development with regard to chronic care diseases. Prevention and promotion of healthy life style among our fellow citizens for an improved economy will be a major highlight. The Conclave envisages to develop a 'White paper' that will contain useful policy advocacies and resource requirements to enable the Government to arrive at a more meaningful, outcome oriented resource allocation in health.