Total Count- 48031: Health Minister gives break up of PG Medical, SS seats to parliament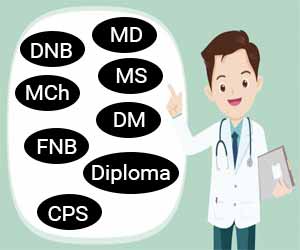 New Delhi: There are total 48, 031 PG medical seats in the country in various broad specialities and super-speciality courses including MD, MS, DM, Mch, Diploma, as well as DNB and FNB courses.
Information to this effect was recently released by Union Minister of State for Health and Family Welfare Shri Ashwani Kumar Choubey to the Lok Sabha while responding to a question on shortage in numbers of Doctorate of Medicine (MD) degree holders in the country .
The Minister replied that no data with regard to shortage of doctors is maintained centrally. However, the details of State-wise postgraduate medical seats including Doctor of Medicine (MD) and Doctorate of Medicine (DM) was then given by the minister
Providing a complete breakup of the PG Broad Specialty as well as Super-specialty seats in the country, the Choubey informed that there are total 34060 PG Medical Seats (MD/MD/DM/Mch/Dip) in medical colleges across the country and another 13,971 PG Medical seats with autonomous bodies including AIIMS, JIPMER, CPS, DNB as well as FNB (Natboard)
MD courses accounted for
19161 seats while there are 10363 seats in MS courses. The number of seats for DM courses was 1286 for this academic year while the number for Mch courses is 1283 seats.
There are total of
1967 Diploma seats in various medical colleges in the country, the data further revealed.
Besides these courses, there are a total of 13,971 PG Medical seats coming from autonomous bodies, with NBE taking lead with 8261 FNB/DNB seats and CPS having 2432 Diploma seats.
All the functioning AIIMS have a total of 2086 PG medical seats, with AIIMS Delhi only accounting of 1564 seats.
Besides the seats, another question was raised by MP Shri Dharambir Singh who questioned about the details of age limit and eligibility prescribed for Doctorate of Medicine (DM) and Doctor of Medicine (MD)
To this, the MOS health clarified that there is no age limit prescribed for doing Doctor of Medicine (MD) and Doctorate of Medicine (DM).
Following table provides the breakup of the State-wise postgraduate medical seats including Doctor of Medicine (MD) and Doctorate of Medicine (DM) as presented to the parliament:-







Number of PG Medical Seats







Sl.

No.


State/UT


MD


MS


MCH


DM


Dip.


Total




1


Andhra Pradesh


1239


712


54


55


103


2163




2


Assam


388


216


13


10


48


675




3


Bihar


399


235


19


10


120


783




4


Chandigarh


93


37


0


3


0


133




5


Chhattisgarh


61


42


3


0


21


127




6


Delhi


787


351


79


69


116


1402




7


Goa


71


27


2


0


22


122




8


Gujarat


1220


661


58


49


116


2104




9


Haryana


367


153


12


6


36


574




10


Himachal Pradesh


188


110


2


2


13


315




11


Jammu & Kashmir


260


185


15


14


50


524




12


Jharkhand


98


57


1


2


39


197




13


Karnataka


2610


1371


134


144


185


4444




14


Kerala


781


354


100


123


177


1535




15


Madhya Pradesh


707


430


20


7


54


1218




16


Maharashtra


2363


1273


156


116


218


4126




17


Manipur


118


80


3


2


6


209




18


Meghalaya


19


8


0


2


0


29




19


Orissa


468


267


33


50


3


821




20


Pondicherry


295


144


5


1


2


447




21


Punjab


403


221


13


18


61


716




22


Rajasthan


947


456


73


61


25


1562




23


Sikkim


18


4


0


0


0


22




24


Tamil Nadu


1755


1077


249


277


210


3568




25


Telangana


1144


605


72


74


41


1936




25


Tripura


56


28


0


0


0


84




26


Uttar Pradesh


1303


692


94


102


148


2339




27


Uttarakhand


165


85


2


0


15


267




28


West Bengal


838


482


74


86


138


1618






TOTAL


19161


10363


1286


1283


1967


34060




Other PG Medical Seats
| | | |
| --- | --- | --- |
| S.No. | Institute | Number of Seats |
| 1. | AIIMS, Dellhi | 1564 |
| 2. | PGIMER, Chandigarh | 941 |
| 3. | JIPMER, Puducherry | 251 |
| 4. | AIIMS at Bhopal, Bhubaneswar, Jodhpur, Patna, Raipur, Rishikesh, Mangalagiri, Nagpur | 522 |
| 5. | DNB and FNB | 8261 |
| 6. | CPS Diploma | 2432 |
| | Grand Total | 48031 |