................................ Advertisement ................................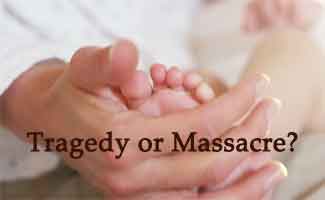 Hospital Does not clear dues of private oxygen supplier-> Supplier allegedly Cuts supply=> 30 Children die in a little span of 48 hours=> Principal Suspended
Gorakhpur: At least 30 children died in the state-run Baba Raghav Das Medical College here during the last 48 hours, allegedly due to the disruption in the supply of liquid oxygen. The shortage of oxygen led to the encephalitis, which is a sudden onset inflammation of the brain, following which the children died.
District magistrate Rajeev Rautela informed that 17 children died in the neo-natal ward, 5 in AES (acute encephalitis syndrome) ward and 8 in the general ward. Action will be taken against those responsible, Rautela said. He said seven deaths (neo-natal ward 3, AES ward 2 and general ward 2) were reported since last midnight, while the remaining 23 deaths (neo-natal 14, AES 3 and general 6) were reported since midnight of August 9-10.
To a specific question as to whether the casualties were due to the shortage in supply of oxygen, Rautela said he found out from the doctors that no death occurred due to lack of oxygen. He said alternative arrangements had been made from neighbouring Sant Kabir Nagar district to ensure availability of liquid oxygen for the hospital. Asked whether the firm supplying oxygen had stopped doing so pending payment, he said part payment had been made to the company for supply of oxygen to the hospital.
................................ Advertisement ................................
Meanwhile, Pushpa Private Limited, one of the oxygen suppliers at Gorakhpur's Baba Raghav Das Medical College (BRD) hospital, denied the allegation that lack of oxygen led to the death of the children.
Further speaking about why they stopped the oxygen supply, the HR official further said that the hospital's Rs. 68.5 lakh payment is pending and the officials did not pay a heed to their letters and legal notice for the same.
"They have a payment of Rs. 68.5 lakh pending. We have written letter to BRD many a time but did not get any reply. This is the officials' job. We sent letters to everyone, including Principal Secretary and Director General. I am informing you what's there in my knowledge. Even after sending legal notice, we did not get any answer."
Reasoning themselves, the Human Resource official of the firm Pushpa Walia told ANI on Saturday that BRD has three oxygen suppliers. Hence if one stops supplying, there are others to fulfill the need.
According to data procured from the BRD hospital, in past five days – from August 7 to August 11, a total of 60 deaths have occurred in the hospital.An inquiry committee has been set up to ascertain the exact causes of the deaths and it has been asked to submit its report by tomorrow evening.
Gorakhpur is the Lok Sabha constituency of Chief Minister Yogi Adityanath and the incident comes barely two days after his visit here. Union Health Minister JP Nadda has now directed MoS Health and Family Welfare Anupriya Patel to visit Gorakhpur's Baba Raghav Das Medical College, to look into the tragic death.
Chief Minister Yogi Adityanath's office tweeted, quoting health minister Sidharth Nath Singh, that the principal has been suspended with immediate effect for negligence.
Studied at Indraprastha College for Women (Delhi University), completed in year 2014. Currently working with Medical Dialogues, a online Medical news paper dedicated for healthcare Professionals.
................................ Advertisement ................................
1 comment(s) on More than 60 children die at Medical College as Supplier allegedly Cuts Oxygen Supply