Treating patient in drunken state: Delhi HC upholds Medical Council suspension of Government doctor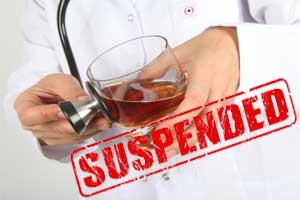 New Delhi: Through a recent order the Delhi High Court was seen giving its affirmation to  the Delhi Medical Council (DMC) decision of handing over a 180 day suspension to a government medical practitioner after he was found guilty of treating ICU patient in an inebriated state.
According to recent media reports, a complaint was filed to the Delhi Medical Council  by a relative of a deceased patient against a senior resident doctor in the Department of Medicine at Babu Jagjivan Ram Memorial Hospital. The complainant alleged that the doctor, on the day of treatment was high on
alcohol.
 The patient died on May 31
st
2015.
The Delhi Medical Council held the doctor guilty on the basis of results of a breath analyser test that was done on the doctor which revealed  that the doctor had consumed alcohol while on duty. The council then handed over a 180 day suspension to the doctor as he had compromised the care of the patient and brought disrepute to the medical profession. The decision came on November 1, reports the
Indian Express
.
The doctor challenging the decision of the Delhi Medical council filed an appeal with the Central Government, as well as knocked the doors of the Delhi High court. The doctor based his case on the FSL report of the book sample that indicated that there was no alcohol in the sample.
The court however, refused to give a stay in the matter. The daily quotes the court as stating
....breath analyser test conducted by the hospital at the relevant time showed the level of alcohol as 99.1 mg/100 ml. In addition to the above, it is also admitted that the petitioner had left the ICU during his duty hours
"The petitioner's explanation for finding high level of alcohol is that he had taken certain homeopathy medicines which had resulted in the positive test. However, there is no material as to which homeopathy medicines were taken by the petitioner and at what time," the court further noted.
During the hearing,  Medical Council of India's advocate also opposed a stay of the DMC order, on the ground that the matter was extremely serious and there cannot be a situation where doctors in an inebriated condition are allowed to treat patients in the ICU.
The court also noted the DMC order observation that another medical practitioner, one not associated with the said government hospital, was provided access by the accused doctor into the ICU.
The court refused to exonerate the doctor
The petitioner (doctor) has premised his case entirely on the FSL report regarding his blood sample, which indicates that no alcohol was found in the sample… There is overwhelming material to indicate medical negligence on part of the petitioner
The court at the same time directed the central government to consider the appeal of the doctor, and reach a appropriate decision, preferably within eight weeks
Read Also: Gujarat: Drunk Doctor performs Caesarian, arrested after patient, newborn die