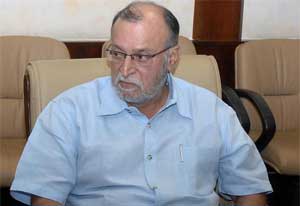 Delhi: Mutual trust and respect earlier prevalent between doctors and their patients is slowly "waning" and needs to be restored, Lt Governor Anil Baijal said.
Speaking at the 20th annual conference of the Delhi Neurological Association, Baijal said the next decade would, without a doubt, be transformative and hoped neuroscience to play a critical role in human development.
According to Delhi Neurological Association, at the conference, Baijal also felicitated neurosurgeon Dr V S Mehta of Paras Hospital in Gurgaon with Lifetime Achievement Award – 2018 for his contribution in the field of neurosurgery.
"The earlier prevalent feeling of mutual trust and respect between the doctor and patients, which is waning, needs to be restored and it is possible by better understanding and realistic expectations from the patient and his relatives and empathy from doctors," the association quoted Baijal as saying in a statement.
A kind word or gesture could act as a booster to medical intervention, but these values were not taught at schools and colleges, the statement quoted Baijal as saying.
0 comment(s) on Trust between doctors and patients is waning: Baijal