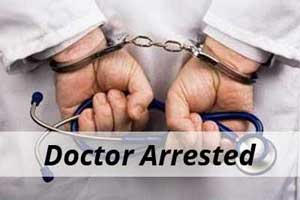 Kakinada:  Two Maoists including a dalam member and a RMP doctor were arrested by the police while routine checking of vehicles at Yetapaka police station in East Godavari agency on Tuesday night.
Giving out the details of the arrested at a press conference here on Wednesday, East Godavari District Superintendent of Police Vishal Gunni said that of the three Madivi Rama (20) a tribal of Palod village of Sukuma district of Chhattisgarh state is a member of Dandakaranya Kisan Mazdoor Sangh(DAKMS) Dalam while the other two are from Bhadradri Kothagudem district of Telangana.
Among the two Molumuri Srinivasarao (38) native of Chinna Nallabelli village, Dhummagudem mandal of Bhadradri Kothagudem district is an RMP doctor running a medical shop attending to the medical needs of the Maoists. He used to supply medicines and also arranging medical treatment to the ailing Maoists.
The other is Payam Jogarao (32) an agricultural coolie but turned to be a Maoist sympathizer and worked as a courier.
They were arrested while they are travelling to Hyderabad for arranging treatment to the Dalam member Rama who received a pellet injury in exchange of fire with the police at Palod on February 23.
Mr Gunni said that all of them were being produced before the court for sending them to judicial remand.
0 comment(s) on Two Maoists, RMP doctor arrested in East Godavari agency