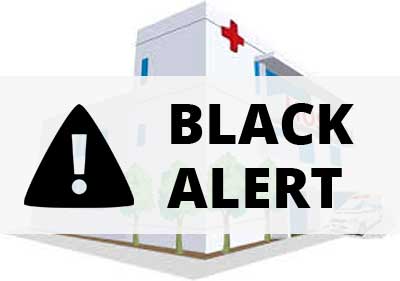 London: Crisis has ensued at UK's NHS with more than 23 hospitals having called a BLACK ALERT on account of overcrowding of patients so much so that the said hospitals can no longer guarantee patient safety and provide their full range of normal services.
Hospitals have declared a black alert – the highest level, which means they cannot cope with the number of patients – while others are on "red alert", which means they are under "extreme pressure". Unable to cope with the sheer number of patients,
Struggling hospitals have been forced to take highly unusual steps in order to manage a surge in demand for care. They include cancelling cancer operations, treating adults in children's wards and even closing a birthing centre to help cope with a sudden influx of patients who need to be admitted for treatment reports The Guardian.
"Emergency departments are overflowing with patients, internal major incidents are being declared around the country and staff in emergency departments are struggling to cope with the immense demand being placed on their services," said Dr Taj Hassan, president of the Royal College of Emergency medicine told the daily.
"These crowded environments are stretching the clinical workforce to their limits and, more importantly, at times are unsafe for patients."
The situation is expected to get worse in the coming days as the winter deepens, leading to further rise in patients with breathing problems. University hospitals of Leicester NHS trust was under so much strain on Tuesday that it declared a "system critical incident" – even higher than a black alert – and had to make patients wait in ambulances before being offloaded into the care of A&E staff.
Indian Doctors to be flown in for help
Telegraph reports that hundreds of doctors may be drafted in from India and Pakistan to plug a spiralling crisis in Accident & Emergency departments, health officials have stated. The scheme will start in Greater Manchester, with 20 medics due to be flown from India this year for up to three years.
Under the new scheme, the NHS will pay £16,000 towards the training costs for each recruit, as well as paying their salary. The middle grade doctors would be placed in emergency departments for 2-3 years while completing their training in emergency medicine, before returning to India.
5 comment(s) on UK HEALTH CRISIS: 23 hospitals declare a BLACK ALERT