UN names India as Global Host for the World Environment Day 2018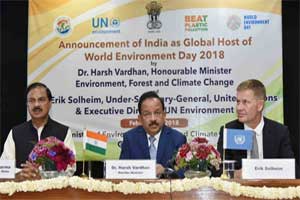 New Delhi: Environment, Forest and Climate Change Minister Dr Harsh Vardhan announced that his ministry's headquarters at Indira Paryavaran Bhavan will now be plastic-free.
The decision was announced during a function, where India and United Nations signed a document declaring India as the Global Host of World Environment Day, 2018.
Indira Paryavaran Bhavan is the first government building in the national capital, with net zero energy green. The state of the art building has emphasis on conservation of natural areas and trees to reduce adverse environmental impact, providing adequate natural light, shaded landscaped areas to reduce ambient temperature and maximise energy saving system.
The document declaring India as the global host was signed by Environment Secretary C.K. Mishra and Erik Solheim, U.N. Under Secretary General and Executive Director of UN Environment. The theme of this year's environment day observance is 'Beat Plastic Pollution'.
In his address, Dr Harsh Vardhan said, plastic is one of the serious menaces and we should handle it.
"It is the beginning of the end of plastic menace," declared Dr.Vardhan.
He said, it will not be just a symbolic celebration of yet another UN day; but a mission. The Minister said, protection of the environment is in the DNA of India, inherited from our ancestors to live in harmony with nature and animal kingdom.
Solheim said, India's leadership on this matter is critical and expressed his happiness, New Delhi has taken it upon itself to be the global host of World Environment Day this year.
"Plastic pollution is a huge environmental and health issue for the planet," lamented the UN official. "It is a health issue for ourselves because when big plastics degrade into small pieces, it gets into the ocean. Small plastic particles are eaten by fish. We eat fish and the plastic gets into our body. So plastic pollution is a huge environment and health issue."
Minister of State for Environment, Forest & Climate Change Dr Mahesh Sharma, speaking on the occasion, said protection of the environment is the call of the day; it is the call of humanity; for the whole world and especially when we talk of India.
"As a doctor, I understand the predicament, that pure air in Delhi and several other smart cities would be scarce not too far if we don't mitigate the causes of pollution," said Dr Sharma.
Environment Secretary C.K. Mishra in his opening remarks said, protection of the environment is not a symbolic gesture for India; it is a commitment towards sustainable development.
"Respect for nature is an integral part of Indian thinking. So, for Indian society it is not something that is coming from outside, it comes from within and I guess that makes a world of difference to how you position your commitment to the cause," said Mr Mishra.
Earlier, Dr Harsh Vardhan launched the first electric charging facility in any UN office in India at its Lodhi Road offices.
Dr Vardhan later travelled in electric cars from Indian headquarters of the United Nations to the office of the Ministry of Environment, Forest and Climate Change, accompanied by Dr Mahesh Sharma, Mr C.K. Mishra and Mr Erik Solheim.