Understanding Diclofenac- the most popular NSAID painkiller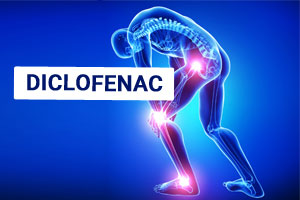 Over the years, novel methods for chemical synthesis and improved screening technologies have spurred the use of various kinds of pain management treatments. Health experts have emphasized the need to safeguard molecules like diclofenac that have emerged as the most widely prescribed NSAID across the globe.
Having existence of more than four decades on pharmacy shelves, the non-steroidal anti-inflammatory drug Diclofenac remains a popular choice of drug for mild to moderate pain management.
Diclofenac belongs to the class of non-steroidal anti-inflammatory drug (NSAID). Diclofenac was first synthesized by Alfred Sallmann and Rudolf Pfister and introduced as Voltaren by Ciba-Geigy (now Novartis) in 1973.
Indications
Diclofenac is used to treat mild to moderate pain and inflammation in several indications but is more prominently used in osteoarthritis, rheumatoid arthritis, musculoskeletal injuries and some post-operative pain management.
"Clinical experience has revealed that Diclofenac is the gold standard in pain management. There are trusted orals, topicals, and injectables in the Diclofenac range which are used in different conditions. The molecule has given predictable results in the past," said Dr. G V P Subbaiah, Spine Surgeon, Star Hospital, Hyderabad.
"The efficacy of Diclofenac is enhanced if combined with paracetamol. It should be used with caution in patients with renal disease and gastritis. Diclofenac injection is definitely more effective option for relief of pain in short term," Dr. Ashok Khurana, Senior consultant, Orthopaedics, Jaipur Golden Hospital, Delhi.
Mode of action
Diclofenac works by blocking the effect of chemicals in your body, called cyclo-oxygenase (COX) enzymes. These enzymes help to make other chemicals in the body, called prostaglandins. Prostaglandins are produced at sites of injury or damage and cause pain and inflammation. By blocking the effect of COX enzymes, fewer prostaglandins are produced, which eases pain and inflammation.
Forms of Diclofenac
There are two forms of diclofenac - diclofenac sodium and diclofenac potassium. The main difference between the two is that diclofenac potassium is absorbed into the body more quickly than diclofenac sodium.
 Prominent variables of Diclofenac include:


Immediate-release tablet


Delayed-release tablet


Oral Suppository


Topical Gel 1%:


Commonly available Diclofenac dosages are


Tablet, oral, as sodium: 50 mg, 75 mg.


Suppository, as sodium: 12.5 mg, 50 mg, 100 mg.


Injection: 75 mg.


Gel: 1% Cream, as sodium: 1% + menthol 2.5% + camphor 1.4%.


Based on their dosages, different types of the medicines are available on the shelves having better outcomes in different indications.  For Instance, if we take one of the oldest and popular brands of diclofenac - Voveran by Novartis India Limited- the drug comes in several variables such as Voveran SR 100 ( SR- Sustained-Release)- to provide prolonged relief and enhanced patient compliance; Voveran 50 (Voveran 50 mg) tablet for pain associated with a migraine and gout; Voveran D-to manage acute dental postoperative pain; Voveran Thermagel-a topical NSAID popularly used in muscular pain.
 "Tablet Diclofenac in a dosage of 50 mg twice a day is my treatment of choice for mild to moderate pain but I use it with caution in patients of fever during dengue season," stated Dr. Srikant Sharma, Senior Consultant, Medicine, Moolchand Medcity Hospital, Delhi.
Precautions before taking Diclofenac
Prolonged use of Diclofenac has been reported to increase the risk of fatal heart attack or stroke, especially taking high doses or having cardiac problems. It is recommended that the medication should not be used just before or after heart bypass surgery (coronary artery bypass graft, or CABG).
Elderly people should be more careful with the use of Diclofenac as it may cause stomach or intestinal bleeding, which can sometimes prove fatal. It is advised not to use diclofenac if one has had an asthma attack or severe allergic reaction after taking aspirin or an NSAID.
In terms of Dosage, the ideal dosage of diclofenac differs for different conditions as well as different variants
The usual dosage of Diclofenac includes  -
Diclofenac potassium immediate-release tablets: 50 mg orally 2 or 3 times a day
Diclofenac sodium enteric-coated tablets: 50 mg orally 2 or 3 times a day or 75 mg orally 2 times a day
Maximum dose: 150 mg daily
Diclofenac sodium extended-release tablets: 100 mg orally once a day
However, In patients of Rheumatoid Arthritis, the dose of Diclofenac may be increased and which is as given below-
Diclofenac potassium immediate-release tablets: 50 mg orally 3 or 4 times a day
Diclofenac sodium enteric-coated and delayed-release tablets: 50 mg orally 3 to 4 times a day or 75 mg orally twice a day
Maximum dose: 225 mg daily
Drug Interactions
Alcohol should not be consumed while taking diclofenac as it can result in stomach ulcer and the combination of Diclofenac should be avoided with other NSAIDs unless directed by the physician.
Pain can be complex and varied, driven by several unique factors.  The science of pain management is evolving. Pain market is ranked 7th in the Indian pharmaceutical industry which shows the elevation in the growth of patients suffering from pain in one form or the other. Experts have asserted that certain innovative molecules such as Diclofenac have consistently resulted in better patient outcomes, smarter pain management, shorter recovery times, increased clinical utility and efficacy.