Understanding Patient engagement- the new blockbuster
"Patient engagement is said to be the new blockbuster"
If you are a healthcare provider who manages a poly clinic or a hospital or even your own practice, one of the most important things to focus on is patient centricity, to understand patient's needs, improve her outcomes. Patient centricity means designing every process of a health system keeping patient as the focal point.The three pillars of a patient centric healthcare system are: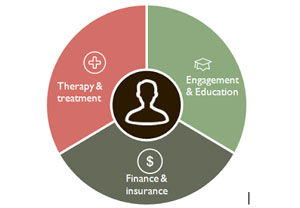 Advantages of patient engagement
Patient engagement gives multiple advantages to all the stakeholders in the value chain i.e. Clinics, Doctors, Patients and Caregivers.


Better outcomes: Research shows if the patients are engaged, they are three times less likely to have unmet medical needs, which means, an engaged patient goes to the provider more often.


Higher retention:This is also shown by patient retention rates data, providers using patient engagement have 25% higher patient retention than providers who do not use any engagement tools.


Higher per patient revenue: average per patient payment is directly related to the quality of care, higher engagement improves care quality, hence a higher per patient revenue.


Efficiency improvement and savings: there is a significant efficiency improvement with higher number of scheduled visits, readily accessible EMR data (~Rs. 120,000 per practitioner yearly)



What would a good patient engagement strategy have?
Three key result areas for a patient engagement are


Adoption by doctors and other stakeholders


Adoption by patients


Retention numbers


To achieve results in the above mentioned key areas, following strategies should be followed:
A myth about adoption is that older patients do not download the app, in fact our data shows otherwise, adoption of portal is consistent across all age groups.


Focus on adoption: Key success factor of any engagement is adoption, adoption is easy and fast if right adoption strategies are used. First is default registration to the portal, all existing and new patients should be added to the platform by default. Kiosk or registration desk in the clinic is also a useful way to increase adoption.


Automated engagement: Using technology to engage with patients is one of the easiest and most cost and time efficient ways to engage with patients. Patients can get automated reminders for their medication, for their appointments and can read articles from the portal. This can be done using mobile phone app and a cloud based dashboard.


Customized vsgeneric engagement:Engagement should be a mix of both customized and generic engagement hence the right platform should enable you to send personalized information to each patient plus a set of standard information to a set of patients. Right marketing material should be developed specifically for the platform.


Engagement from different stakeholders:A good engagement strategy would consist of engaging patients with marketing team, departments and doctorsby sending therapy-wise articles. Patients should be encouraged to send messages to doctors using the secure platform. Clinicians should be made aware of the importance of engagement for better care


Action points
If you have decided that you want to engage with patients in your practice, here are a few steps you should consider taking


Make an engagement strategy involving key stakeholders such as marketing, clinicians and IT.


Select the right technology partner that can give you insight about the patients using deep technology, so that you can focus on your core competency of patient care.


Delegate the task of coordinating to someone in the organization, make that person accountable for patient engagement, add it to the KRA.


Get regular feedback on the system to improve it with time


Gaurav Gupta is a co-founder of Navia Life Care and an MBA from Indian School of Business. He has been working in the healthcare & technology industries for over 5 years now and has an in-depth understanding of needs of various stakeholders in the industry.
Navia is a healthcare technology company that builds solutions for health systems with a focus on improving patient outcomes.

Navia's patient engagement solution enable providers to easily engage with patients using customized white-labelled mobile app and a dashboard.

Get 15% discount on on annual subscription charges,when registering through Medical Dialogues. Check out:
https://medicaldialogues.in/navia/