................................ Advertisement ................................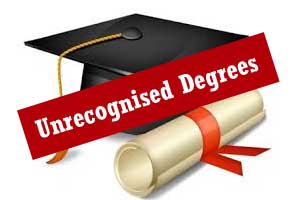 Dehradun: Noting that the post-MBBS diploma in Radiology from certain institutes of Uttar Pradesh is not recognized qualification, the Uttarakhand Medical Council (UMC) has recently barred seven radiologists from practicing in the state. Ironically, some of these medical practitioners including one Chief Medical Officer (CMO) rank official who were actually sent and sponsored by the state government itself to UP Medical institutes to get these degrees, only to later found out these degrees are not recognized by the MCI
These 7 "specialists", who hold qualifications of Diploma in Medical Radio Diagnosis (DMRD) would not be allowed to conduct sonography and other radiology tests of patients, unless they get clearance from the Medical Council of India (MCI), implying that despite their studies, they are only MBBS doctors.
Dr Y S Bisht, Registrar, Uttarakhand State Medical Council informed Medical Dialogues team that the awarding institutions of these degrees were actually government institutions and not private. Out of the seven, four of the doctors earned their Diploma in Medical Radio Diagnosis (DMRD) from Ambedkar University, while the other three earned it from Allahabad University. However, this particular course in both varsities does not have MCI approval.
Deputy Registrar of UMC, Dr D Chaudhury stated the MCI has confirmed that the Diploma in Radiology, Diploma in Cardiology and Diploma in Child Health from some institutes of Uttar Pradesh, are not recognized by it.
It is learnt that the officials of the UP deliberately concealed the fact that diploma courses of some institutes are not recognized, reports Pioneer Dr. Chaudhury stated that apart from the mischief of the officials of the UP the issue brings into fore negligence of the concerned authorities in the office of Uttarakhand Director General (DG) health.
................................ Advertisement ................................
"The doctors who had done these non-recognised diplomas are equally at fault as they should have checked the credentials of the institutes from where they are doing the post MBBS diploma," Dr Choudhary told the Pioneer.
The crucial issue surfaced in front of the medical council when a doctor for Nainital contacted the authorities to get his diploma registered. The moment the council found that the doctor studied this course from a university which didn't have any approval to conduct the same, he was barred from practice. This indeed opened a Pandora's box, and it is presumed that as many as 17 doctors employed in various government institutions are working as specialists based on these unrecognized qualifications
On the suspensions, Y S Bisht, Registrar, State Council signed a notice which read, "The DMRD qualification of all the under-mentioned doctors' diploma stands void unless MCI, Delhi, gives clearance. And, in the meantime, these doctors are not authorized to perform any works related to radiology/ultrasound in the state."
Bisht stated, "We are in the process of identifying more such cases so that only genuine doctors remain." Speaking to Medical Dialogues team he added, " We have asked the Medical Council of India to give more clarification on this."
DG (health) Dr Archana Shrivastava told TOI, "We will take action if the state council provides a list of doctors who are working or have worked without proper qualifications in the state."
Garima joined Medical Dialogues in the year 2017 and is currently working as a Senior Editor. She looks after all the Healthcare news pertaining to Medical Education issues, Medico-legal cases, MCI/DCI decisions, government policies as well as all the news and updates pertaining to Medical and Dental Colleges in India. She is a graduate from Delhi University. She can be contacted at editorial@medicaldialogues.in Contact no. 011-43720751
To know about our editorial team click here
................................ Advertisement ................................
13 comment(s) on Unrecognised DMRD: Uttarakhand Medical Council bars 7 passouts of UP government medical colleges