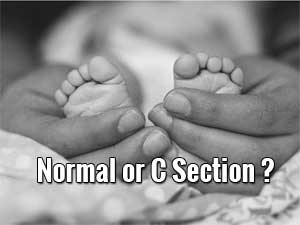 New Delhi: Observing that "unwarranted" cesarean sections were harmful to the mother and the baby and a violation of their fundamental rights, the Delhi High Court on Tuesday asked the AAP government about the steps it has taken to curb this practice by certain hospitals.A Bench of Acting Chief Justice Gita Mittal and Justice C Hari Shankar asked the Delhi Government's Directorate General of Health Services (DGHS) to place on record the outcome of deliberations of a panel it had set up to examine and curb the practice of unnecessary cesarean sections (C-sections).
"The DGHS to place on record the outcome of the deliberations and steps taken, if any, on the issue," it said and listed the matter for further hearing on July 9.The Bench also asked the Medical Council of India (MCI) to examine the issue and place a report before the court before the next date of hearing.The Central Government took the stand that health was the responsibility of the state government which has to formulate the regulations and guidelines.
The court was hearing a PIL by an NGO which has claimed that lack of regulations was leading to increasing number of C-section births taking place in private hospitals.NGO Independent Thought has contended that such operations led to severe enhancement in the cost of healthcare for both mother and baby and only the private health sector benefitted from this practice.
It has alleged that unnecessary C-sections occur as mothers are not given adequate information to make an informed decision about childbirth.The NGO, in its plea, has sought framing of appropriate guidelines for C-sections to safeguard the reproductive health rights of women and children.The petition claims that while the average birth by C-section in private hospitals of Delhi was as high as 65.54 percent, as against 20.65 percent in the government hospitals, the World Health Organisation's norms for birth by C-section says it should be between 10 to 15 percent of the total deliveries.
4 comment(s) on Unwarranted C-sections harmful: Delhi HC asks govt to Examine Hospital practise