UP CM to launch free CT scan facilities in Govt hospitals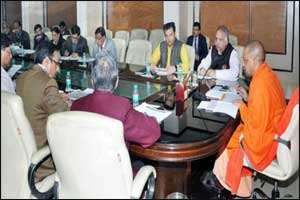 Lucknow: Uttar Pradesh government, in association with National Health Mission (NHM) is setting up CT scan units in district-level hospitals for providing the vital service free-of-cost.
Chief Minister Yogi Adityanath will inaugurate this initiative through video conferencing on Wednesday as part of 'UP Divas' celebrations.
Officials here on Tuesday said the free diagnostic service, currently available in 3 district hospitals, will be rolled out in another 9 hospitals this month and in 16 more hospitals by the end of March this year, taking the total to 28, thereby intending to provide essential Imaging Diagnostics Services of CT Scan to patients in the Government Sector.
The project will be implemented by HLL Lifecare Ltd, a Mini Ratna PSE under Union Health Ministry.
Sources said Sant Kabir Nagar, Deoria, Shahjahanpur, Sitapur, Farukhabad, Kaushambi, Mathura, Aligarh and Hathras districts are the 9 District hospitals where the facility will be made operational from this month.
The CT scan centres in these hospitals will be operational through Monday to Saturday, from 8 am to 6 pm.
The scan report will be provided within 6 hours of scanning. In the case of emergencies like head injury/trauma, the report will be ready within two hours of scanning. The facility will be available free of cost for patients of government hospitals.
In these District hospitals, the Government will provide a free-of-cost space for CT Imaging Center and HLL will invest on the CT Scanner Equipment and other associated equipment and will also undertake commissioning, maintenance, testing and reporting at the facility.