UP: Dog Menace at Govt Healthcare Facility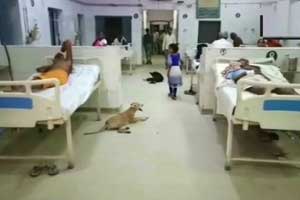 "We are scared, but if we complain to the staff, they (hospital staff) say just shoo the dogs away by yourself."
Hardoi: In a shocking way, the apathy of the district hospital in Uttar Pradesh's Sitapur came to the public eye when a number of stray dogs were spotted inside the wards of the hospital, along with patients in Hardoi.
People at the hospital claimed that the hospital administration is not taking steps to curb this menace. They told ANI, "We are scared, but if we complain to the staff, they say just shoo the dogs away by yourself."
 "Some of them often follow the ward boys and nurses," the patients claimed.
This comes a time when increasing incidents of dog attacks have rattled the Sitapur city of Uttar Pradesh. Recently, feral stray dogs in Sitapur killed dozens of children in a vicious attack.
Turning a deaf ear to the menace, State Minister Suresh Kumar Khanna on Saturday said that the government cannot be held responsible for the same.
Speaking on the issue, the Chief Medical Officer claimed, "We've taken cognisance of it and have deployed staff to not let this happen."
The menace began on May 1, when stray dogs began attacking children in Sitapur and nearby areas. To tackle the issue, the administration had called a dog catcher team from Mathura, but it was later sent back.
Since November, 14 kids have reportedly been killed and several others injured in such attacks. The incidents have led to the formation of a committee by Chief Minister Yogi Adityanath.
"Effective action should be taken by forming joint teams comprising officials of the police department, animal health department, Nagar Palika and Nagar panchayat. A team of experts from Lucknow and Bareilly should be called, and a probe be done in this regard," Adityanath told the news agency when he visited the area a few days ago.