UP Health Bonanza: CM promises 6 AIIMS, 25 Medical Colleges to meet 5 lakh doctor requirement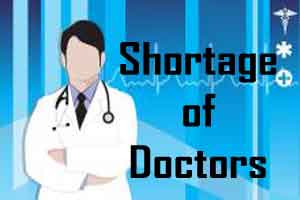 Lucknow: Stressing on the need to advance medical facilities in Uttar Pradesh, Chief Minister Yogi Adityanath said at least five lakh more doctors are more required to provide affordable healthcare to the people of the state.
While inaugurating the ward for ventilator machines at Lucknow's King George's Medical University, CM Yogi Adityanath promised to open six AIIMS in the state to provide state-of-the-art medical facilities to the people.
CM Adityanath also asked doctors not to indulge in private practice and deal with patients in a polite manner.
Lack of sensitivity towards patients
Addressing the required need of healthcare in Uttar Pradesh, CM Yogi Adityanath also noted that there is a lack of sensitivity towards patients among doctors amid a gradual rise in commercialism, as he said that half of their problems could be solved if they worked on this.
"It is a matter of concern for all governments on how to make so many new doctors available, but it is all the more important to inculcate sensitivity among them," he said after inaugurating 56 ventilators at the KGMU.
"There is a lack of sensitivity towards common patients among doctors because of gradual rise in commercialism," Adityanath said, citing some related incidents in his home town Gorakhpur.
"If the doctors have a little sensitivity towards patients half their problems can be resolved," he said, adding that the identity of doctor is through his sensitivity.
Speaking on private practice by government doctors, he said there is a dangerous trend of loot by those conducting medical tests and sought the help of doctors in addressing this problem and extending proper care to the poor and needy.
Lauding the yeomans service rendered by the KGMU whose doctors are in top positions in the medical field, the Chief Minister stressed on proper maintenance of the equipments installed in medical colleges and university.
Six New Hospitals
Pointing towards the need of AIIMS like institution in Uttar Prdaesh along with the shortage of doctors,  CM further said that the Prime Minister Narendra Modi and BJP president Amit Shah have given the task of setting six AIIMS-like institutes in UP to the BJP government, the Chief Minister said it will be a challenge to set them with the available resources.
Referring to the works in the previous Samajwadi Party government, he said most of the good doctors in the Gorakhpur medical college were sent to Saifai (the native village of the then ruling Yadav family which has a Rural Institute of Medical Science & Research) while shifting some others to Kannauj (constituency of Dimple Yadav).
"And what they gave to Gorakhpur (is) a modern slaughter house... I said we do not want slaughter house...," the CM said, adding he is thankful to the prime minister who gave AIIMs to Gorakhpur.
The Chief Minister said 25 new medical colleges will be set up in next five years.
On pollution in rivers, he said on a recent visit to Gomti riverfront project (started by the Akhilesh Yadav government) he had hoped that the water there would be very clean but found it worse than that of a drain even though fountains were working there.
Stressing on hygiene, Adityanath said doctors should pay attention to it as well as creating health-related awareness.
Making a mention of encephalitis-related deaths in Gorakhpur every year, he lamented the tendency of the "under utilisation" of government budget which forces the departments to surrender the funds at the closure of financial year.
Terming this practice as a betrayal of peoples faith, he said his government will work in this regard.