UPDATE 2-Merck KGaA, Threshold drug fails in late-stage cancer trials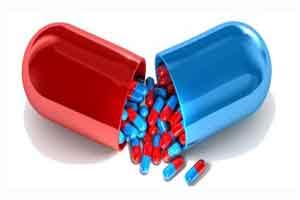 FRANKFURT, Dec 7 Germany's Merck KGaA and development partner Threshold Pharmaceuticals said their experimental cancer drug evofosfamide failed to extend lives in two late-stage clinical studies, a major setback for both firms.

Evofosfamide did not meet the main goal of improving survival in patients suffering from advanced pancreatic cancer and advanced soft tissue sarcoma, prompting the two companies to give up exploring the drug's use against these cancer forms.

Merck said on Monday it would focus efforts on more promising candidates in its drug pipeline and would soon decide about evofosfamide's overall future.

Shares in Merck, also the world's largest maker of liquid crystals for display screens, traded 1.3 percent lower after falling as much as 2.3 percent, the biggest decline among German blue-chip stocks.

In recent years, Merck has been making major inroads into offering substances and equipment for biotech firms and lab operators after a string of development setbacks at its pharmaceuticals division.

The new disappointment leaves CEO-designate Stefan Oschmann, a pharmaceuticals expert, with a narrow drug development pipeline that rests mainly on cancer immune therapy avelumab, jointly developed with Pfizer.

Oschmann, slated to take the top job in April, joined Merck in early 2011, about a year before Merck agreed to collaborate with South San Francisco-based Threshold.

"Evofosfamide was among Merck's highest profile pipeline projects and thus played a non-negligible role in Merck's quest to rebuild its pipeline particularly in oncology," said Equinet Bank analyst Marietta Miemietz.

UBS analysts said they had estimated annual peak sales of 400 million euros ($433 million) for the drug's use in soft tissue sarcoma and 800 million euros in pancreatic cancer, previously putting the probability of market launch at 50 percent.

The two partners have also been testing evofosfamide against skin and lung cancer in the second phase of drug trials required for regulatory approval, and against further cancer types in the first phase.

The drug is designed to attack body tissue that is short of oxygen supply, also known as hypoxia, because cancerous cells often grow without connecting to the oxygen-carrying blood vessels around them.

"While we believe there remains substantial data to support the role of hypoxia in cancer treatment resistance, we are deeply frustrated with our inability in these trials to impact that in a meaningful way," Threshold CEO Barry Selick said in a statement.