First Ever Recorded Case of Vertical Penile Fracture: BMJ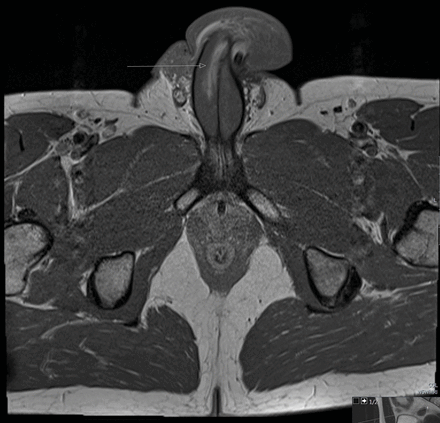 Man reports with the first known case of vertical penile fracture, as confirmed by an MRI scan.
A 40 year old male patient sustained a vertical penile fracture during sexual intercourse, according to a case documented in the British Medical Journal.

A penile fracture is defined as a tear of the tunica albuginea. It occurs when the erect penis is subjected to an abnormal 'bending' force, exceeding the tensile strength of the tunica albuginea, which is approximately 1500 mm Hg, resulting in a tear, or so called 'fracture. The tell-tale signs of a penile fracture are 'popping' sensation and immediate detumescence, following blunt trauma. On examination, the penis will be grossly swollen and ecchymotic (the so-called 'eggplant' sign) with a palpable 'rolling' sign. In up to 71% of cases, the penis bends to the left. Operative intervention is required within 24 hours to minimise chances of long term complications.
However, according to a PubMed literature review conducted in July 2020, all cases of penile fractures reported till date are transverse or horizontal fractures.
This case reported in the British Medical Journal is the first documented case of a vertical penile fracture, as confirmed by an MRI scan.
The patient reported that his penis buckled against his partner's perineum. Interestingly, he described a gradual detumescence, with moderate swelling but no 'popping' sensation. Moreover, there was no palpable 'rolling' sign on examination. Given the presentation, a penile MRI was deemed appropriate in order to exclude a ruptured dorsal vessel and/or suspensory ligament.
The MRI confirmed a vertical disruption of the tunica albuginea at the ventral aspect of the right corpus cavernosum, along the medial third of the penile shaft. Guided by the MRI, the surgeon was able to target his exploration, confirming that indeed there was a 3 cm vertical tear.
The patient received operative care within 24 hours and made a complete recovery within 6 months. He was able to resume sexual activity within 6 months of the injury, achieving erections of the same quality to those prior to the injury, denying any penile curvature or significant palpable scarring.
Based on this case, it would appear that a vertical fracture is not associated with the classical features of a penile fracture, namely immediate detumescence, a 'popping' sensation, gross ecchymosis and a palpable rolling defect.
However, more work is required to answer whether a vertical penile fracture pattern alters either the presentation or long-term outcomes following operative repair.
Reference:
Case Report titled, "Atypical presentation of a vertical penile fracture" as published in the BritishMedical Journal.