CKD patients are at increased risk of heart disease, finds study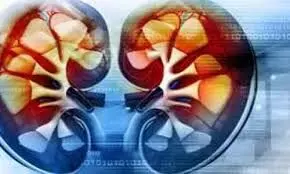 Sweden: A recent study strongly supports chronic kidney disease (CKD) being an independent risk factor for cardiovascular disease (CVD). The results, published in the journal Kidney International Reports, are essential to enable more timely and improved treatments in this population.
There is an ambiguity on whether an increased progression rate of CKD adds predictive information regarding CVD risk. Claudia S. Cabrera, Karolinska Institute, Stockholm, Sweden, and colleagues aimed to evaluate the association between CKD progression, based on estimated glomerular filtration rate (eGFR) slope estimates and the risk of CVD.
The researchers compared the updated eGFR slope calculated over multiple overlapping 2-year periods and the updated mean eGFR. CKD patients were selected from a prevalent population having type 2 diabetes (T2D). The researchers followed participants from the UK Clinical Practice Research Data Link GOLD (CPRD) from CKD diagnosis (n=30222) until heart failure (HF), myocardial infarction (MI), ischemic stroke (IS), or a composite endpoint including all three event types (MACE plus), mortality, database drop out, or end of study follow-up.
Key findings of the study include:
Both the updated eGFR slope and updated mean eGFR were associated with MACE plus and HF.
Updated eGFR slope decline of < -3 ml/min/1.73m2 increased the risk of MACE plus (adj HR 1.45), HF (HR 1.50), and MI (HR 1.39).
"From a clinical perspective, both rates of progression and cumulative status of CKD describe distinct aspects of the cardio-renal risk among persons with diabetes. This evidence is essential to enable a more timely and improved use of treatments in this population," concluded the authors.
The study, "Impact of Chronic Kidney Disease Progression on Cardiovascular Disease Risk in a Contemporary UK Cohort of individuals with Diabetes CKD Progression on Cardiovascular Disease Risk," is published in the journal Kidney International Reports.
Source : Kidney International Reports