Patient-reported passage of kidney stone may not have acceptable accuracy: Study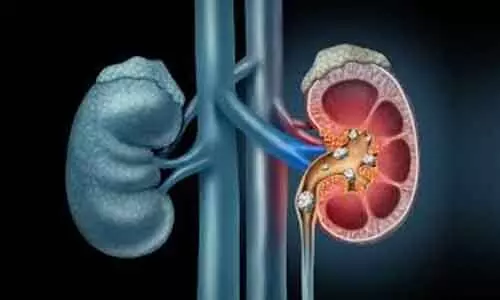 Canada: Patient-reported stone passage and resolution of pain does not guarantee that the stone has truly passed, suggests a recent study in the Journal of Urology.
Ryan McLarty, University of Alberta, Edmonton, Alberta, Canada, and colleagues assessed the accuracy of patient-reported outcomes for predicting spontaneous ureteral stone passage.
For the purpose, the researchers prospectively assessed patients with new unilateral ureteral calculi regarding current symptoms and whether they believed their stone had passed.
The primary outcome was successful spontaneous stone passage as confirmed by ultrasound, and kidney, ureter, and bladder x-ray. The spontaneous stone passage was compared to patient-reported outcome responses to assess accuracy.
Key findings of the study include:
Of the 212 patients 105 (49.5%) had successful spontaneous stone passage at a mean followup of 17.6 days.
Compared to the unsuccessful spontaneous stone passage group, those with successful spontaneous stone passage had significantly smaller (mean 5.4 vs 7.6 mm), more distal (71.4% vs 34.6%) stones with slightly longer average time to followup at first visit (19.2 vs 16.0 days).
There was more patient reported cessation of pain (77.1% vs 44.9%) and perceived stone passage (55.2% vs 13.1%) in this group.
Cessation of pain was 79.7% sensitive and 55.8% specific for successful spontaneous stone passage.
Patient reported stone passage was 59.3% sensitive and 87.0% specific.
In the multivariable logistic regression analysis cessation of pain (OR 4.02) and reported stone passage (OR 3.79) were independent predictors of successful spontaneous stone passage.
"Pain cessation and patient-reported stone passage are independent predictors of successful spontaneous stone passage. However, both assessments may incorrectly gauge spontaneous stone passage, which raises concern for their validity as a sole clinical endpoint.
The study, "Patient Reported Outcomes Predicting Spontaneous Stone Passage May Not Have Acceptable Accuracy," is published in the Journal of Urology.
DOI: https://www.auajournals.org/doi/10.1097/JU.0000000000001030
Source : Journal of Urology