Regular use of cranberry improves overactive bladder syndrome; claims study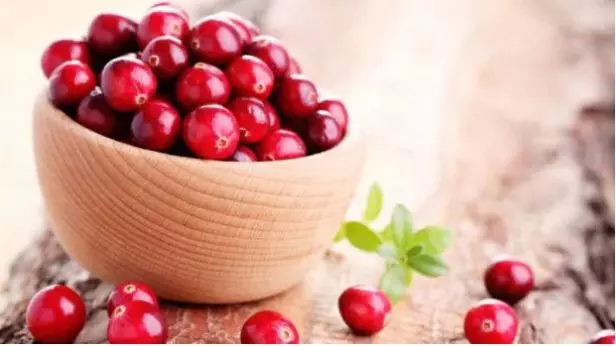 It is a well known fact that Cranberries (Scientific Name: Vaccinium Macrocarpon) are loaded with vitamin C and fiber, rich in phyto-nutrients which are essential for all-round wellness, and also contain various chemical substances that may offer protection from tooth cavities, urinary tract infection, and inflammatory diseases.

Recently in a study, daily intake of dried cranberry powder has shown to reduce daily micturition by 16.4%, urgency episodes by 57.3%, and patient perception of bladder condition by 39.7%,according to the study findings from a research published in Journal of Urology.
Overactive bladder (OAB) syndrome is the term used to describe the symptom complex of urinary urgency with or without urge incontinence, usually with frequency and nocturia.
Taking a cue from previous studies highlighting the benefits of cranberry,researchers undertook a new study to determine the efficacy of dried cranberry on reducing symptoms of overactive bladder in women.
The study design consisted of eligible women aged 18 or older with overactive bladder were randomized to either daily dried cranberry powder (500mg) or placebo (500mg) and followed for 24-weeks. Efficacy was measured by 3-day voiding diaries and Overactive Bladder Questionnaire Short Form, Patient Perception of Bladder Condition, Sexual Quality of Life-Female, and Pelvic Floor Distress Inventory surveys.
Data analysis revealed the following facts.
Of the 98 women who were randomized, 77 completed all the visits, and 60 were included in the per protocol analysis.
Compared to placebo, using per-protocol analysis, the cranberry group showed a significant reduction of daily micturitions (-1.91, 95%CI: -3.74, -0.88, P = 0.0406), urgency episodes (-2.81, 95%CI: -4.82, -0.80, P = 0.0069), and Patient Perception of Bladder Condition scores (-0.66, 95%CI: -1.23, 0.08, P = 0.0258) at 24-weeks of follow-up.
Mean volume per micturition, nocturia, and the remaining survey outcomes did not differ significantly between the two groups (P > 0.05).
From the results the authors noted that though cranberry reduced the symptoms related to overactive bladder, "However, an intent-to-treat analysis showed no statistically significant difference between the groups for these measurements (p>0.05). Future larger studies with longer follow-up periods are needed to further determine the long-term effect of cranberry on overactive bladder."
For full aricle follow the link: https://doi.org/10.1097/JU.0000000000001384
Primary source: Journal of Urology
Source : Journal of Urology