Smokers at increased risk of complication after Radical Cystectomy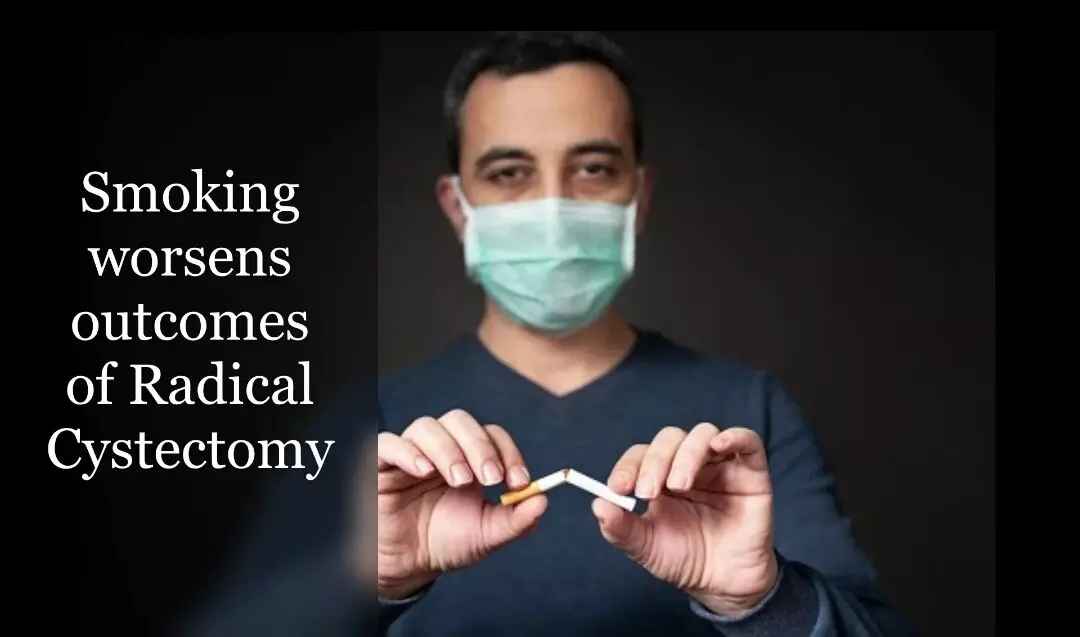 Radical cystectomy is a highly morbid procedure and complication rates vary from 30 to 64% regardless of operative technique. Older patients with bladder cancer who are active smokers show a higher risk for developing major complications after radical cystectomy when compared with nonsmokers, suggests a study published in the journal Cancer on December 22, 2020.

Smoking, the most common risk factor for bladder cancer (BC), is associated with increased complications after radical cystectomy (RC), poorer oncologic outcomes, and higher mortality. Previous observational studies have shown that smoking cessation reduces the risk of recurrence and cancer-related death while continued smoking leads to decreased survival, decreased quality of life and increased risk of readmission within 30 days in bladder cancer patients. Smoking is a modifiable risk factor for complications, but the efforts to promote smoking cessation in surgical oncology patients are scarce. A research team conducted a study on the hypothesis that the effect of smoking on the probability of major complications increases with increasing age among patients who undergo RC.
It was an observational retrospective study in which researchers analyzed the American College of Surgeons National Surgical Quality Improvement Program database (2011‐2017) and identified 10,528 patients undergoing RC using Current Procedural Terminology codes. They categorized them into two groups according to smoking status (active smoker and nonsmoker). They assessed patient characteristics and 30‐day postoperative complications using the Clavien‐Dindo Classification (CDC). They used a multivariable logistic regression model that included age, sex, race, body mass index, operative time, comorbidities, chemotherapy status, and type of diversion with major complications (CDC ≥III) as the outcome variable and explored the interaction between age and smoking status.
The researchers noted the rate of major complications was higher in smokers vs nonsmokers (17.2% vs 16.4%). They also observed a significant interaction was observed between age and smoking status. They found the risk of a major complication was the same for 50‐year‐old nonsmokers and smokers, but it increased from 17.8% to 21.7% for 70‐year‐old nonsmokers and smokers, respectively.
The authors concluded, "Up to 20% of patients who undergo RC are active smokers, and these individuals have an increased risk of major complications. The effect of smoking is stronger with increasing age; the difference with regard to complications for smokers versus nonsmokers was found to increase substantially, wherein older smokers are at an especially high risk of complications"
For further information:
https://acsjournals.onlinelibrary.wiley.com/doi/10.1002/cncr.33308
Article Source :
Cancer