................................ Advertisement ................................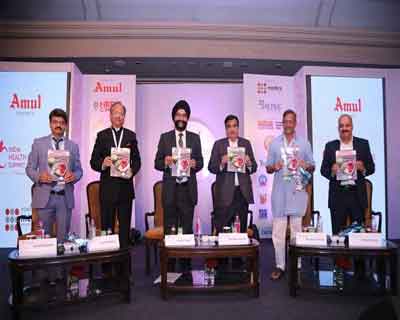 New Delhi: Medics Super Specialty Hospital, the 300-bed tertiary-care unit located in the capital city of country's most populous state Uttar Pradesh, announced recently at the India Health & Wellness Summit and Awards (IHWS&A) 2016 that it will start operations from May, 2017.
The pre-launch of the hospital, the first one from Medics International Lifesciences Limited, was announced during the country's leading forum on holistic health which was inaugurated by Union Minister for Road Transport, Highways and Shipping Shri Nitin Gadakri and veteran Bollywood actor Nana Patekar. India Health & Wellness Summit also works as a launch-pad for new ventures, ideas and solutions targeted at addressing the health issues of the country.
"We are delighted to be launching Medics at the India Health & Wellness Summit and Awards 2016. Medics has been conceptualized, planned, and developed with the vision of giving Uttar Pradesh world-class healthcare facility, always keeping the patient at the heart of the organization's operations. The IHWS&A, we believe, strives for the same kind of excellence that we believe in. We share the vision of a healthier India and are taking proactive measures to try and ensure that our children have a healthier life," said Medics CEO Dr. Mayank Somani.
The event was also attended by who's who from the government, politics, industry and academia. Some of the eminent speakers included Union Minister of State for MSME Shri Griraj Singh, Union Minister of State for Agriculture Shri Purushottam Bhai Rupala, Delhi Health Minister Satyender Jain, Delhi Water Minister Shri Kapil Mishra, Member of Parliament and former union minister Shri Jyotriaditya Scindia and popular Tamil Actress Gautami Tadimalla.
The hospital, one of the largest in central Uttar Pradesh, will have special focus on Cardiology, Neurology, Oncology, Radiation Oncology, Orthopaedic and Joint Replacement, Trauma and Critical Care Medicine, Gastroenterology, Urology and Nephrology. It has state-of-the-art facilities, the latest equipment, international protocols, and best healthcare practices. It is one of the few hospitals that has been given a LEED certification for good environmental practices, establishing it as a responsible corporate citizen.
................................ Advertisement ................................
Speaking at the launch, Dr. Sushil Gattani Chairman Medics Super Speciality Hospital said, "Medics' mission is to make the biggest healthcare story, one that makes real difference, with each of us writing it, telling it, and living it. Our vision is to create the best possible environment for our patients to heal, and our medical consultants to deliver healthcare without obstacles."
Speaking on the occasion, Mr. Kamal Narayan, IHWS&A Managing Director, said, "The India Health & Wellness Summit and Awards is a forum that takes the discussion on health to the next level. However, it is not just a discussion platform, but also a launch pad for new ideas, ventures, technologies. As a young enterprise, we are very supportive of other start-ups taking a leap with us, in a bid to ensure better health for future generations."
Studied at Indraprastha College for Women (Delhi University), completed in year 2014. Currently working with Medical Dialogues, a online Medical news paper dedicated for healthcare Professionals.
................................ Advertisement ................................
0 comment(s) on Uttar Pradesh: Medics Super Specialty Hospital Launched