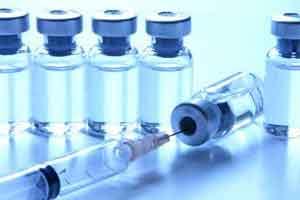 Thiruvananthapuram: The CPI(M)-led Left Democratic Front government in Kerala has unveiled a new draft health policy, which proposes to make mandatory certificate of vaccination for admission of children in schools.
Installation of napkin vending machines and sanitary disposal facilities would also be made compulsory in schools from upper primary level.
 The comprehensive policy laid out a slew of proposals to strengthen the health sector, which figured in the latest ranking of NITI Aayog index.
The focus on vaccination comes in the backdrop of stiff resistance from certain quarters and false propaganda against the recent state-wide drive.
The latest instance of resistance was against the measles-rubella vaccination programme – aimed at protecting children from the two major diseases – in some districts, especially in Muslim-dominated Malappuram.
The draft health policy, approved during a state Cabinet meeting headed by Chief Minister Pinarayi Vijayan yesterday, envisages a stringent law to make the vaccination card compulsory for admission in the first standard.
It also proposes legal action against persons who campaign against vaccination.
The policy was drafted by a 17-member committee headed by Planning Board member and Kerala University former Vice-Chancellor Dr B Ekbal.
"Steps will be taken to strengthen the vaccination drive in a more effective manner especially in the wake of returning of diseases like diphtheria and tetanus in several places," the draft policy said.
The action would be taken to set up child-friendly and hygiene toilets in schools.
A movement to create awareness on menstrual hygiene among teenage girl students would be initiated, it said.
It was also proposed to make installation of napkin vending machines and sanitary disposal facilities mandatory in educational institutions from upper primary level.
A state-wide network of ambulance on the lines of online cab aggregator Uber would be introduced to provide emergency trauma care to road accident victims.
The policy also focuses on the steps to meet the health problems faced by migrant labourer force in the state, estimated to be around 25-30 lakh.
To address the difficulties faced by the transgender community, the policy wanted to set up special clinics for the marginalised group in medical colleges and district hospitals.
0 comment(s) on Vaccination to be made compulsory for school admission in Kerala