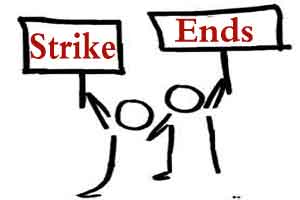 Operations at GMERS Hospital came back to normal, after the in-premise resident doctors called off their indefinite strike over the issue of hike in their stipend.
Following assurances by additional chief secretary (medical services and medical education) Anil Mukim, the final call to end the strike was taken by the 82 junior and senior residents involved in the protest.
Only day before yesterday, resident doctors at the GMERS General Hospital, Gotri, were demanding stipends at par with the resident doctors of SSG.
A senior resident is implied to have said that the resident doctors protesting group is in a wait and watch mode now, for the next 15 days. Hopefully the matter will be resolved within this time frame. A forward decision to resume work from tomorrow, or Monday will be decided after a meeting, added a junior resident from the hospital.
As reported by TOI, there are sources which have stated that the residents have agreed to withdraw strike in wake of the final Medical Council of India (MCI) inspection ahead of the MBBS final year exams. Representatives of the resident doctors at Gotri also claimed that they had no intentions of putting the hospital in a fix during the MCI inspections.
"A shortfall in the staff can hamper with future of the MBBS students who are not related to our contention with the authorities," said a senior resident at the hospital. MCI officials are expected to visit GMERS Gotri during the first week of February, which also coincides with the fortnight's assurance given by Mukim. "We will decide our next step according to the developments in the next few days," another senior resident doctor said.
On Thursday, protesting residents donated blood to the hospital's bank. "This is our way of helping the patients even when we are not working. The blood donation camp will continue till we resume work," the residents told TOI.
0 comment(s) on Vadodara: GMERS General Hospital doctors end strike