Vice President Venkaiah Naidu Inaugurates 434 bedded KIMS ICON Hospital at Vizag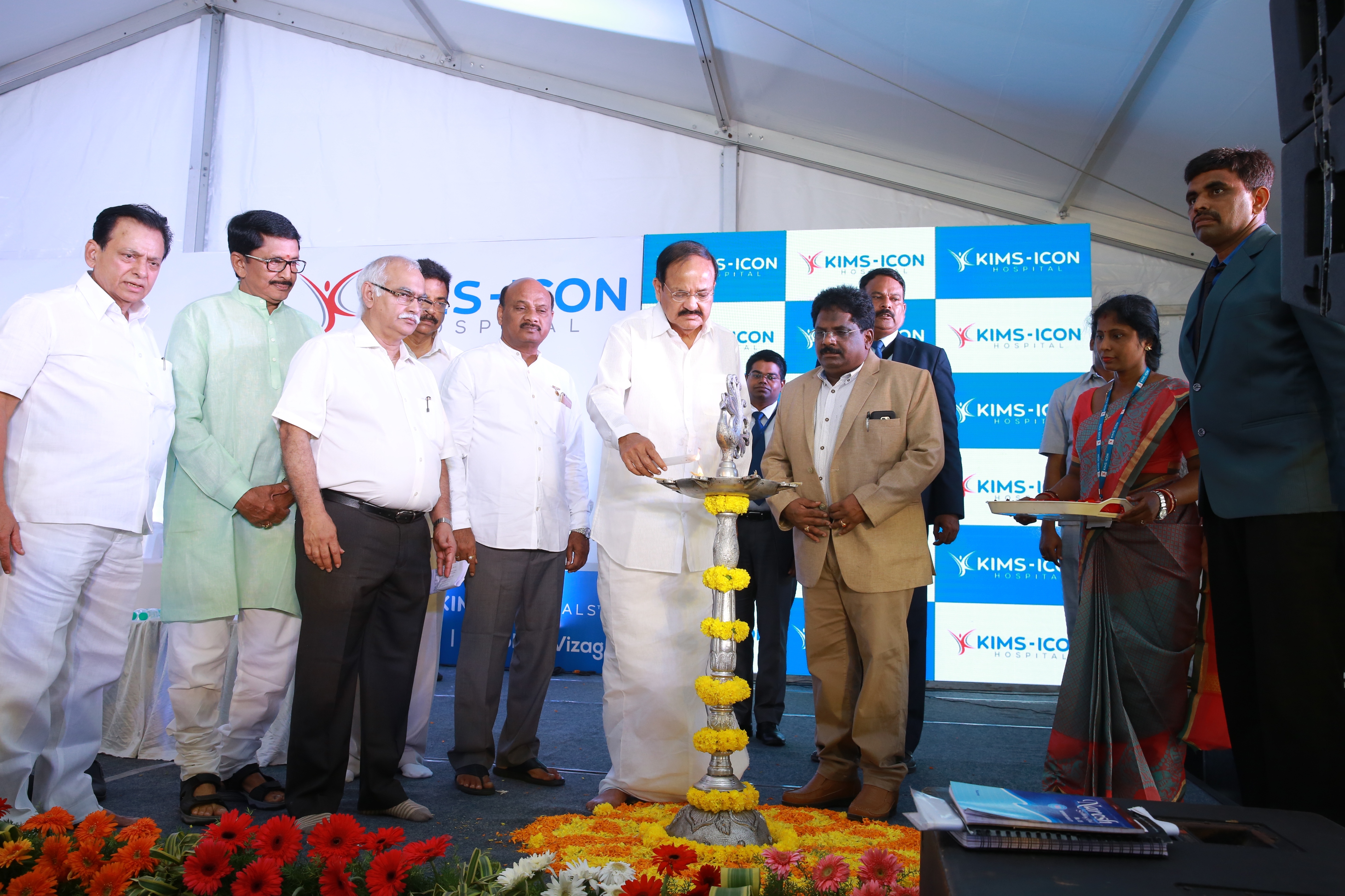 Vizag: KIMS hospitals, launched its 7th facility KIMS ICON Hospital at Sheela Nagar, Visakhapatnam. Hon'ble Vice-President of India, Sri M. Venkaiah Naidu inaugurated the 434-bed hospital.

Speaking on the occasion he said that Hospitals and Doctors must interact with patients & their families with empathy and compassion.  He said that such approach will give the patients a healing touch and help them feel better during their treatment.

The Vice President said that we need to take measures to bring down the expenditure on health. He further said that medical facilities & health care must be affordable for common man, he added. The hospital with 434 bed capacity is expected to provide medical services to the people of the surrounding regions of the port city Visakhapatnam, he added.

The Vice President said that we need to make affordable healthcare available to masses. He also asked to adopt a service oriented approach while discharging their duties as medical practitioners. He said that the job of the Doctor does not end by giving medicines and said that they must also advise and guide people on preventive care.

The Vice President also asked the doctors to encourage people to take active participation in physical activities like walking, running, exercise or Yoga and adopt healthy lifestyle. A healthy society will move the country economically forward, he added.

KIMS-ICON has spread across 17 acres of land with 2 million Sq ft built-up area, offers an entire spectrum of medical services over 30 departments including Cardiology, Orthopedics, Nephrology, Neurology, Urology, General Surgery, Gastroenterology, Pulmonology, Ophthalmology, Obstetrics and Gynaecology, ENT, Emergency and Dental among others. With the addition of Visakhapatnam facility, the total capacity of KIMS hospitals in Telangana and Andhra Pradesh increases to2554beds.

Speaking on the occasion, Dr Bhaskar Rao, MD and CEO, KIMS hospitals said, "KIMS ICON is launched keeping our vision and commitment of 'PASSION FOR HEALING'. We have always worked towards raising the standard for administering healthcare of international standards at affordable costs."

Keeping with KIMS traditions, this hospital continues to keep its focus on its goal of personalized services, modern medical facilities and ensuring the services are within the reach of the common man."

"The KIMS network ensures the patients have access to the best doctors and specialists and affordable health-care is thus just a short distance away," he added.