Violation of PNDT Act: Hospital under scanner for Illegal sex determination, MTP procedures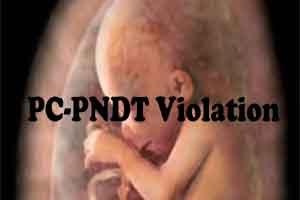 Surat: A city-based hospital, run by two Homeopathy practitioners, has been raided by the officials of the Health Department on the suspicion of illegal sex determination and MTP procedures racket.
According to a media report, senior officials of the health department under the state government had received an anonymous letter that mentioned about the illegal activities being carried out at the Jivan Jyot hospital, owned by two Homeopathy practitioners.
The letter provided the registration numbers of 23 auto rickshaws, whose drivers used to bring patients working as agents of the hospital. It was alleged that not the hospital carried out not only illegal sex determination but also abortion procedures.
Read Also: STOP Harassment of Obstetricians, Radiologists: IMA demands review, repeal, re-conception of PCPNDT
On receiving specific information regarding the matter, a team from the health department along with crime branch officials conducted the raid in the said hospital.
The officials seized a sonography machine and initiated an investigation after filing a complaint in the local court under the Pre-Natal Diagnostic Techniques (Regulation and Prevention of Misuse) Act.
The District Programme officer of the health department informed the TOI, "They are not authorized to use sonography machine to conduct sex determination tests. It is a clear case of violation of the PNDT Act. We have seized one sonography machine."
The officials are yet to find out that when the racket came into existence.
The police team informed that a large number of the patients from the city, South Gujarat and Maharashtra had been connected to the clinic. Some hospitals were connected to Jivan Jyot Hospital through the autorickshaw drivers.
The City Police Commissioner Satish Sharma informed the daily, "We had also received the letter and joined the raid by the health department officials. Its further process is being taken care of by the health officials."