Violence against Doctors: HC orders NABH to evaluate AIIMS, Safdarjung and LNJP hospitals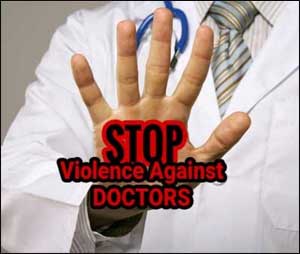 New Delhi: Pained by the incidents of medical staff, including doctors, being assaulted by patients and their attendants, the Delhi High Court today said such acts cannot be countenanced and asked a private body to evaluate health care quality in AIIMS, Safdarjung Hospital and LNJP Hospital as the Centre was "not placing" the correct picture before it.
A bench of Acting Chief Justice Gita Mittal and Justice C Hari Shankar said that even though the central government has claimed there are enough doctors, "it cannot be denied that insufficiency of medical staff is one of the major causes of discontent among patients and their attendants".
It observed that patients needed attendants as the nurses were not doing their jobs and said if CCTV cameras are installed, the correct position would be evident.
The court said that since the central government was not placing the correct position before it, it was imperative to have an independent audit of the facilities along with recommendations of an ideal health care situation.
It asked the National Accreditation Board for Hospitals (NABH), a body under the Quality Council of India (QCI), to conduct a detailed evaluation of the three hospitals-- All India Institute of Medical Sciences (AIIMS), Safdarjung Hospital and Lok Nayak Jai Prakash Narayan (LNJP) Hospital, within two weeks and to inform the court about the available infrastructure and manpower, their inadequacy and steps necessary for improvement of health services.
The bench asked NABH, represented by advocate Vikas Chopra, to inform it about the doctor-patient ratio, adequacy of facilities for doctors and measures in place for their safety and security.
The court said it was open to NABH to decide which all specialities it will evaluate and directed the Centre and the Delhi government to pay the organisation Rs two lakh per hospital, coming to a total of Rs six lakh, as interim payment for the assessment, after NABH said that the evaluation work is conducted by qualified experts and would cost a total of Rs 10 lakh.
With the direction, the bench listed the matter for further hearing on April 25.
NABH is a constituent board of QCI and was set up to establish and operate an accreditation programme for health care organizations.
QCI, set up as a public private partnership, is an independent body that works towards assuring quality standards across all spheres of economic and social activities.
The bench had earlier decided to look into the aspects of health care quality and working conditions of medical professionals in hospitals in Delhi while hearing a PIL initiated by it after perusing a news report on the rise in violent attacks on doctors.
The court, through the plea, has been issuing periodic directions for ensuring safety and security of doctors and other medical staff.