Viral Video: Doctors have shouting match during emergency Cesarean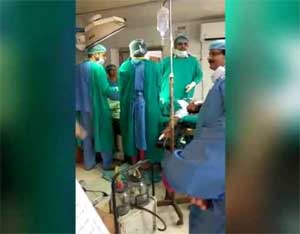 Rajasthan: Bringing a huge backlash from the Indian public, a video showing two medical practitioners hurling verbal abuses at each other, while operating on an emergency caesarean patient has now gone viral on social media.
The video comes from the operation theatre of Jodhpur's Umaid Hospital, where the assistant professor of obstetrics and gynaecology Dr Ashok Nanival – who is seen operating on a patient – arguing with the professor of anaesthesia Dr Mathura Lal Tak using filthy language. The identity of the two doctors was confirmed by the hospital, which also ordered probe reports
HT
.
[embed]https://youtu.be/L6UphVMSrxo[/embed]
As can be seen in the video, which was taken by one of the staff, the two doctors are shouting at each other loudly and threatening each other in Hindi. It is, however, unclear what might have lead to the verbal spat. ANI reports that the Rajasthan high court has taken cognizance of the incident and asked for a report on the incident by 2 pm on Wednesday.
"The woman was admitted fetus was in distress,had low heartbeat, still will probe reason for newborn's death" informed the Superintendent, Umaid Hospital.
Meanwhile, AL Bhat, Principal, SN Medical College said,"Both doctors have been removed immediately and disciplinary action will be taken against them"
"Dr Nanival was appointed an assistant professor on urgent/ temporary basis. The medical education department has to power to terminate such appointments. For Dr Tak, who is a senior professor, the action will be taken by the DOP ( department of personnel)," Dr Bhat told HT.