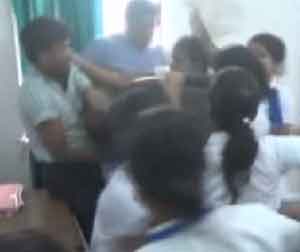 Katihar: Enraged mob of Nurses of a hospital in Bihar's Katihar thrashed a doctor after he allegedly molested a female medical staff. The video footage of the said attack has since then gone viral on social media.
In a mobile footage, the doctor is seen running away from the crowd in a hospital of Bihar's Katihar.
The incident is about an ophthalmic surgeon of Eye Hospital located at Sadar Hospital in Katihar, Bihar, who allegedly tried to molest a student taking an ANM training.
In protest, hundreds of nursing students gathered together to beat up the accused doctor and thrashed him. During this time, many physicians and CSs who tried to rescue the doctor also got caught in the middle and faced the resentment of the nurses.
When the news about the molestation came to the nursing students, they gathered together to fiercely raise the demand for action against the doctor.
According to the information, a doctor posted in the hospital was accused of molesting a woman ANM. To report this, all ANM went to Dr. Murtaza Ali civil surgeon's office. The accused doctor was also called to the office

While the discussion on the issue was going on , in the meantime, nursing students started asking for the accused to be handed over to them.
The matter soon escalated, with all  the nurses in the chamber becoming furious and together, they began beating up the accused doctor with slippers in the Civil Surgeon's Chamber itself.

Civil surgeon and other doctors and staff present in the chamber at the time of the incident also became casualty to the nurses wrath.
According to the information, after the incident, the accused, Javed somehow managed to escape from the hospital. Later police arrived at the spot in an attempt to calm the girls
#WATCH: Nurses of a hospital in Katihar beat up a doctor who allegedly molested a female medical staff. #Bihar pic.twitter.com/CgoEiN97VA— ANI (@ANI) September 16, 2018
1 comment(s) on Viral Video: Nurses beat up Ophthalmic surgeon for allegedly assaulting Nursing Student