Virtual autopsies to be conducted at AIIMS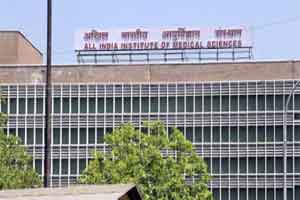 In a first in Asia, a Digital Radiological unit has been set up at the AIIMS mortuary here to enable doctors conduct virtual autopsies with the help of high-tech digital X-rays which can detect even the minutest clots and fractures invisible to the naked eye.

The cutting edge technology is also less time consuming and promises to be a boon in cases where only skeletal remains are recovered.

"The virtual autopsies are less time consuming as compared to the traditional postmortem and are minimally invasive allowing the body to be released for cremation or burial sooner," said Dr Sudhir Gupta, Head of the AIIMS Forensic Department.

According to Dr Gupta, it is tremendously helpful in cases of decomposed corpse where it is difficult to ascertain the injuries by visual post mortem examination.

"The radiological examination can detect fractures and blood clots invisible to the naked eye. Often there are concealed fractures and injuries which are difficult to spot.

"With the help of virtual autopsy, even smaller fractures like hairline or chip fracture in bones along with bleeding which are signs of antemortem injuries can be detected and they can be also documented in the form of X ray films. These X-ray plates have complete legal evidential value," said Dr Gupta.

According to Dr Chittaranjan Behera, Associate Professor of Forensic Medicine at AIIMS, it is easy to track foreign objects like bullets and pellets through this technology.

"Deeply lodged bullets and firearm pellets which enter the body and get entangled in the muscles and bones poses a great challenge while extracting it during post mortem.

"But these virtual films will show the exact position of the bullets as well as pellets and thus could be extracted easily. If the extraction meant mutilation of the body, then the bullet doesn't require to be extracted as the film will have the same evidential value as the extracted bullet," Dr Behera said.
Dr Gupta said that this cutting edge technology will play

an important role in identification and estimation of age where only the skeletal remains are recovered.

Referring to the Nithari case in which several skeletons were recovered, Dr Gupta recalled that it took over two months to conduct their examination.

"It was a herculean task for the AIIMS Forensic department as more than three dozens skeletal remains were examined. It took over two months because of non-availability of the radiological unit. The same could be now done in couple of days," Dr Gupta said.

He also referred to a recent case of a 15-month-old boy whose body was flown to India from Saudi Arabia and had undergone two post-mortems.

"Natural death was cited by Saudi authorities but the deceased's family was not satisfied as they were suspecting homicide. The new technology revealed that his death was due to hanging," he said.