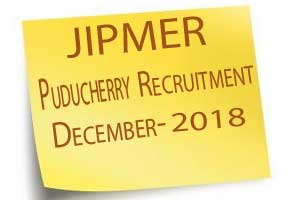 New Delhi: Jawaharlal Institute of Postgraduate Medical Education and Research, Puducherry will conduct walk-in interview for the following faculty posts on REGULAR BASIS for a period of three year. The walk-in-interview for the month of January 2019 will be held on 08.01.19 and 09.01.19.
It is informed that there are 375 posts of Senior Resident in various departments of this Institute. The post of SR is a tenure post for duration of three years. At any given point of time, vacancies will be arises due to completion of tenure/resignation of Senior Residents. Hence, in order to fill up as many vacancies as possible to render optimal patient -care services, it is proposed to conduct walk-in-interview once every two months. Accordingly, the walk-ininterview for the month of January 2019 will be held on 08.01.19 and 09.01.19 for better patient care services. At present, there are 48 vacancies (Including Backlog vacancies) in the grade of SR as detailed below and it is proposed to fill up the vacancies on regular basis.
The vacancies are in the Department of Anatomy, Anesthesiology, Biochemistry, Dermatology, Forensic Medicine, General Medicine, General Surgery, Microbiology, Nuclear Medicine, Obst & Gynaec, Ophthalmology, Orthopedics, Pediatrics, Pathology, Pharmacology, Physiology, P & S.M (Community Medicine), Psychiatry, Pulmonary Medicine, Radio-Diagnosis, Radiotherapy.
For more details about Senior Resident Recruitment click on the given link:
http://medicaljob.in/jobs.php?post_type=&job_tags=jipmer-puducherry-dec2018&location=&job_sector=all
ESSENTIAL QUALIFICATIONS:- A Postgraduate Medical Degree (MD/MS/DNB) in respective discipline from recognized university/Institute.
Note:- If candidates i.e., MD/MS/DNB are not available/eligible in any particular specialty, those who are having 02 years Post Graduate Diploma after M.B.B.S in the concerned specialty can be considered.
Age Limit for appointment as Senior Residents:- Not exceeding 37 years for those having Post Graduate qualification. With usual relaxation of 5 years for SC/ST and 3 years for OBC as per rules. (Upper age limit for Persons with Disabilities shall be relaxable by 10 years. 15 years for SCs/STs and 13 years for OBCs. Persons suffering from not less than 40% of relevant disability shall alone be eligible for reservation, fees exemption and age relaxation.)
NOTE:-
1. The age relaxation will be given to the candidates as per Govt. of India's Rules.
2. The above vacancies are provisional and subject to variation. The Competent authority reserves the right to vary the vacancies including reserved vacancies as per the Govt. of India rules/circulars and requirements. The reservation will be followed as per Government of India Rules. Indian Nationals only need apply.
Must not have completed 03 years Senior Residency in any recognized institute including regular or Ad-hoc basis.
PAY SCALES:- The candidates with Postgraduate Medical Degree recognized by the Medical Council of India will be paid B/Pay Rs.67700/ (Level -11 and Cell-1) (Revised) and other usual allowances per month in the first year of his/her residency.
(Total Rs.1, 10,000/-approximately)
SELECTION PROCEDURE:- 1. A written Examination based on MCQs in the subject concerned will be conducted for eligible candidate followed by personal interview.
2. Selection process for the post of Senior Resident will include a written examination (80%) and review of academic, research credentials including publications academic awards, research paper, presentation in conferences and performance in personal interview (20%).
3. Candidates will be shortlisted for interview based on their written test marks. List of shortlisted candidates will be displayed in our notice board on the same day. In this regard, this Institute reserves the right to take the final decision.
4. The number of posts to be filled up will be decided by the competent authority.
Interested and eligible candidates may attend the Written test and Interview to be held at 08.30.A.M on 08.01.19 and 09.01.19 at Innovation Center, Ground Floor, Admin Block, JIPMER, Puducherry-06, as per above schedule along with i) filled in application & Bio-Data in the prescribed format (appended) ii) the following certificates in original and an Self-attested copy thereof and iii) copy of the printout of fees paid through online. No fee is required to be payable by Persons with Disabilities (PwD's) candidates.
01. Age proof certificate (Birth certificate/10th/12th Mark sheet)
02. MBBS Provisional/Degree certificate
03. MD/MS/DNB/P.G. Diploma (Degree/Provisional Certificate)
04. Medical Council Registration Certificate (MBBS & MD/MS/DNB)
05. Internship Completion Certificate.
06. Residence certificate issued by Revenue authority not below the rank of Tahsildhar/Dy.Tahsildhar or Aadhar card or voter ID & Passport.
07. SC/ST certificate and latest OBC (Non-Creamy Layer) Certificate (format appended) issued by the Revenue Officer not below the rank of Thasildar/ Dy Thasildar if he/she belongs to SC/ST/OBC category. In case the certificate is in regional language, the English version of the certificate duly attested by a Gazetted Officer is also to be furnished.
08. OBC certificate must be in the format as mentioned in the annexure. Certificate to be produce at the time of interview should not be older than one year on date of interview.
09. The candidates who are in service in any Govt. Hospital /Institutions are required to submit "No objection Certificate" from the present employer.
DETAILS OF APPLICATIONS FEES:-
Rs. 500/- for General (UR) & OBC category
Rs. 250/- for SC/ST category and PWD's – NIL
Kindly note that in addition to the application fee service charge for making online payment will be deducted as per the norms of Bank. The application fee once remitted will not be refunded at any circumstances.
Application Fee is exempted in case of candidates applying under PWD category.
MODE OF PAYMENT (Only Online payment through SBI collect):
Kindly go through the detailed advertisement making online application fee payment.
No other mode of payment (DD/Cheque/MO/IPO/CRF/Cash etc) will be entertained.
The Online application fee payment will be available now itself.
Click on the link below:- (Available in JIPMER Home Page:- www.jipmer.puducherry.gov.in)
Online Payment
                                                  SBI collect page will be appeared
1. Click on the Check box mentioned as I have read and accepted the terms and conditions stated above".
2. Click on PROCEED
3. Select RESIDENT RECRUITMENT FEE from the drop down list of select payment category and fill the following details carefully:-
Notification No., Date and month of Notification, Name of the Applicant, Date of Birth, Name of the Post (from the drop down list), Name of the department, Educational Qualification, Category of the Applicant (from the drop down list), Contact No, Email, Communication Address, Application Fee (from the drop down list i.e. Rs. 500 for UR / OBC & Rs. 250 for SC / ST)
Kindly note that in addition to the application fee service charge for making online payment will be deducted as per the norms of Bank.
4. Select SUBMIT and proceed for online payment.
5. Please save the payment copy and the same should be submitted along-with the application for reconciliation.
General Information:-
1. If employed under the State or Central Govt. or PSU/Autonomous body, applicants are required to produce NOC from competent authority, failing which they will not be allowed to appear for interview under any circumstances.
2. Canvassing in any form will disqualify the candidate.
3. Crucial date for determination of eligibility with regards to age experience/ educational qualification etc. will be the date; the candidates appear in the interview.
4. Candidates who does not fulfill any one of the above conditions, will not be allowed to appear for the written test. They are to ensure that they fulfill the eligibility criteria before coming to appear for the walk-in-interview.
5. No travelling allowance will be paid by this Office for attending the Interview except for SC/ST candidates. SC/ST candidates will be paid travelling allowance as per rules. SC/ST candidates should produce their caste certificate issued by the Revenue Officials not below the rank of Tahsildar/Dy Tahsildar.
Date & Place of written test:- 08.01.19 and 09.01.19, INNOVATION CENTER.
For more details click on the original website given below.
0 comment(s) on Walk in Interview: JIPMER Puducherry releases 48 vacancies for Senior Resident on Regular Basis