Walk in Interview: JIPMER releases 25 vacancies for Senior Resident Post in 13 Specialities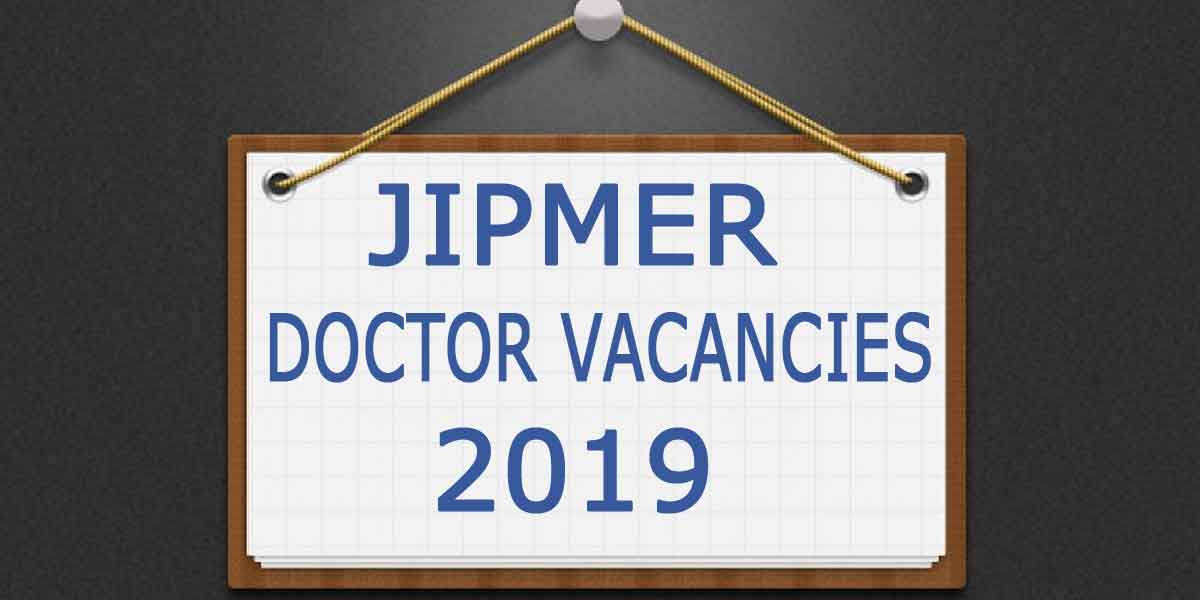 Puducherry – The Jawaharlal Institute of Postgraduate Medical Education and Research (JIPMER) has released 25 vacancies for the post of Senior Resident in 13 Specialities on Regular Basis for its Karaikal campus. The candidates will be selected based on written test and interview.
The Campus was established in the year 2007 in Karaikal to cater to the local demands of the Karaikal region, as Karaikal is poised to become a trade center with a major port. It is presently located in the campus of the Preunthalaivar Kamarajar College of Education, Karaikal.
Date for Walk-in-Interview: 18th October 2019Vacancy details:Total no of Vacancies: 25
The vacancies are in the Department of – Anatomy, Biochemistry, Forensic Medicine, General Medicine, General Surgery, Microbiology, Obstetrics & Gynaecology, Orthopedics, Paediatrics, Pathology, Pharmacology, Physiology, and P & SM (Community Medicine).
For more details about Qualification, Age, and Pay Allowance and much more, click on the given link:
https://medicaljob.in/jobs.php?post_type=&job_tags=JIPMER+Vacancies&location=&job_sector=all
What is the Method of Selection?
1. A written Examination based on MCQs in the subject concerned will be conducted for eligible candidates followed by personal interview.
2. Candidates will be shortlisted for interview based on their written test marks. List of shortlisted candidates will be displayed in our notice board on the same day. In this regard, this Institute reserves the right to take the final decision.
3. The selection process for the post of Senior Resident will include a written examination(80%) and review of academic, research credentials including publications academic awards, research paper, presentation in conferences and performance in a personal interview (20%).
What are the General Instructions?
1. If the candidate is employed under the State or Central Govt. or PSU/Autonomous body, applicants are required to produce NOC from a competent authority, failing which they will not be allowed to appear for an interview under any circumstances.
2. Applicants should not complete 03 years Senior Residency under Residency Scheme in any recognized institute including regular or Ad-hoc/Contract basis.
3. Canvassing in any form will disqualify the candidate.
4. The crucial date for determination of eligibility with regards to age experience/ educational qualification etc. will be the date of the candidates appear for interview.
5. Candidates who do not fulfill any one of the conditions, will not be allowed to appear for the written test. They have to ensure that they fulfill the eligibility criteria before coming to appear for the walk-in-interview.
6. No traveling allowance will be paid by this Office for attending the Interview except for SC/ST candidates. SC/ST candidates will be paid traveling allowance as per rules. SC/ST candidates should produce their caste certificate issued by the Revenue Officials, not below the rank of Tahsildar/Dy Tahsildar.
7. All information pertaining to this advertisement including date of Interview, result, joining, etc. will be displayed only on the JIPMER, Puducherry website which is www.jipmer.edu.inonly.
8. SC, ST, OBC, EWS and PwD candidates, who are selected on their own merit without any standard relaxation will not be adjusted against the reserved share of vacancies. Such candidates will be accommodated against the General/ Unreserved vacancies in the post as per their position in the overall merit or vacancies earmarked for their category, whichever is advantageous to them. The reserved vacancies will be filled up separately from amongst the eligible SC, ST, OBC, EWSand PwD candidates.
9.No individual intimation will be sent by JIPMER, Puducherry to applicants. It will be the responsibility of applicants to keep abreast of the developments by visiting Institute website www.jipmer.edu.in regularly.
10. The vacancy position may be revised/changed, as per requirement hence candidates are advised to visit the Institute website regularly.
11. In case any information is given or declaration by the candidate is found to be false or if the candidate has willfully suppressed any material information relevant to this appointment, he/she will be liable to be removed from the service and action taken as deemed fit by the appointing authority.
12. The selected candidates will be posted to work only at JIPMER-Karaikal, Karaikal –609 602 and they will not have any rights to seek transfer to JIPMER, Puducherry –605 006.