Warning: Not Writing in CAPITAL, can lead to Spell TROUBLE for doctors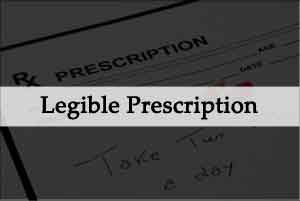 Patna: Doctors need to strictly adhere to the MCI's recent guidelines asking for legible as well as generic prescriptions, as actions are being reported from across the country, for violation of the said guidelines.
Medical Dialogues team had earlier reported that last year, the Medical Council of India had amended the code of medical ethics to include the following clause
"Every physician should prescribe drugs with generic names legibly and preferably in capital letters and he/she shall ensure that there is a rational prescription and use of drugs" 
Read more at Medical Dialogues: MCI gazette Notification asks for Legible Prescriptions
The move was directed to reduce prescription errors as well as bring uniformity in prescription. As there are number of brands providing the same drug salt specification, patients should now have the freedom to choose a brand of their choice. Moreover, writing in capital letters would alleviate the problem of misinterpretation and hence wrong medications.
It is  interesting to note is that unlike other MCI regulations where ensuring  adherence and the enforceability of the code also lies with the council, Action here is being taken by other administrative organisation such as the employing institute and even the state government
Recently, Tribune  reported that 2 leading medical colleges,  The Christian Medical College and Hosptital (CMCH),and the Dayanand Medical College and Hospital(DMCH) ,were facing the wrath of  for their failure to comply with the apex regulator's guideline on the issue of correct prescriptions. Responding to an complaint from an RTI activist the Punjab Government directed the Director, Medical Education and Research, Punjab (vide memo no 16/47/2017-2SS3/2811 dated July 19, 2017) to take appropriate action against the two hospitals for violation of MCI guidelines in connection with issuing prescriptions of generic drugs in a legible manner.
[caption id="attachment_43118" align="aligncenter" width="300"]
source: Tribune[/caption]
Similar scenario was reported from Patna, where illegible prescriptions finally led to wrong medicine and resulted in the patient getting a paralytic attack. Hindustan Times reported that a person filed a complaint to the hospital administration of AIIMS, Patna where she stated that the chemist supplied the wrong medicine due to not readable handwriting on the prescription. Due to the wrong medication the patient got paralytic attack.
[caption id="attachment_43122" align="aligncenter" width="580"]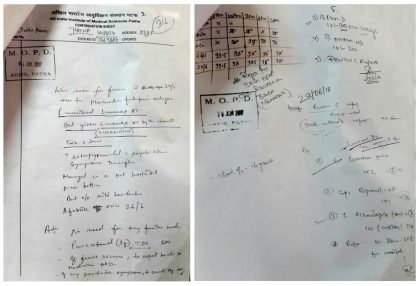 copy of the prescription, Source: Hindustan Times[/caption]
The case concerned that of patient  Juhi Rani, who was prescribed a drug called Lumerax-80 at the medicine outdoor patient department (OPD). However, as the writing on the prescription was not legible enough, a private drug store provided her with Luramax-80 — a drug meant to address psychiatric concerns — leading to severe medical complications.
Acting strong against the complaint, the AIIMS administration had issued a show-cause notice to the chemist on July 15. An embarrassed AIIMS, Patna further then instructed its doctors to write prescription only in capital letters to the patients.
While no action was taken against the doctor in this case,  such lenience may not be so forthcoming in future cases, with such mistakes having grave medico-legal implications. It is important that doctors incorporate the Legible Prescriptions-Generic Prescriptions-Rational Prescriptions dictum to their OPD practice to avoid complications for both patients and themselves