Doctors have to work Minimum 8 hours per day, 6 days in a Week: WB Order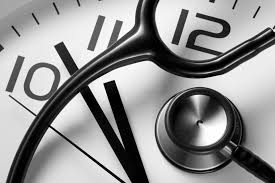 West Bengal: Aiming to fix the accountability of doctors in the state-run hospitals, the State Health and Family Welfare Department through its notification, mandated that doctors have to serve for minimum 8 hours per day at the institution for minimum six days a week in order to constitute a 48 hour work week. This would exclude On call duty, the order added
The order and the corresponding roster came Clause 3(b) of the memorandum issued by the department in 2011 that stipulates 'such duty rosters will be prepared, if required in consultation with the concerned. The roster will clearly mention the shift duties and on- call period for each specified day in the week applicable to each individual employee. While preparing the duty roster, the superintendent will take into consideration the total shift duty hours of an employee which should not be less than 40 hours per week'.
The order states the following
Over a period of time it appears that the above provision has been mistook/ misunderstood to mean that if an employee is locally present at the health facilities for two days in a week i.e. 48 hours, it would suffice to comply the provision of clause 3(b) as having met the stipulation of 40 hours per week.

Now, it is clarified to all concerned that the total shift duty rosters of an employee for not less than 48 hours per week means that the duty shall be mandatorily for six days physical presence at the health facilities and within such six days the rosters may be framed so as to provide not less than 48 hours of active duty in shifts (excluding no-call) covering all six days.
With the new roster, state department has now directed authorities to corroborate the new duty schedule with the biometric attendance system.
Standard duty hours laid by the department for doctors  are as following:


9 AM to 5 PM, To be marked late after 9: 15 AM and to be counted as next shift after 9: 30 AM.


Next Shift 10 AM to 6 PM, To be marked late after 10: 15 AM and to be counted as next shift after 10: 30 AM.


Next shift 11 AM to 7 PM


The order also specifies the following


Any duty hours less than 8 hours a day and more than 7:30 hours/day will be marked as half Casual Leave (CL)


Any duty hours less than 7: 30 hours a day to be marked as absent


If more than 14 CLs in a year, to be adjusted from EL


If EL exhausted, salary to be halved


If all leaves exhausted, no salary