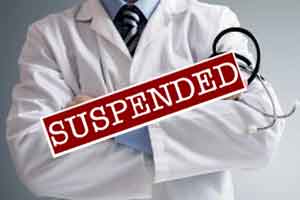 Bengal: Holding negligence in the treatment provided to a four-month-old baby on the part of three Apollo Gleneagles Hospital doctors, the West Bengal Medical Council (WBMC) has now suspended three doctors associated with the case for a period of three months.
Medical Dialogues had earlier reported that the WBCERC has also awarded a compensation of Rs 30 lakh to the baby's family, who died on April 19.
The case goes back to April 2017 when a four-month-old baby who was admitted to the Apollo Gleneagles Hospital for a colonoscopy died primarily because of anaesthetic overdose.
................................ Advertisement ................................
Alleging Medical Negligence on part of the hospital and its doctors, the parents approached the West Bengal Clinical Establishment Regulatory Commission (WBCERC) and the WBMC.  The WBCERC held the doctors as well as the hospital guilty of negligence.
"Apollo Gleneagles Hospital is guilty of mismanagement and misrepresentation of facts, deficiency in services, negligent. It is also having come to the conclusion that three doctors seemed to be negligent in carrying out the treatment as expected," the Commission said in its order.
................................ Advertisement ................................
Since the commission can only try hospitals, the medical negligence part was being probed by WBMC, with PTI now reporting that the state medical council has called for the suspension of three doctors.
As per the order of the WBMC, the names of three doctors associated with the case would be removed from the council's website and they would not be allowed to work at any medical facility in the state, a senior official said. The council in September conducted the final hearing in the death case.
A WBMC source informed the news agency that the verdict will be out soon.
Read Also: Cotton Mop allegedly left during C-Section: Gynaecologist, Nurse booked under IPC 304 after patient death
Author Details
Meghna A Singhania is the founder and Editor-in-Chief at Medical Dialogues. An Economics graduate from Delhi University and a post graduate from London School of Economics and Political Science, her key research interest lies in health economics, and policy making in health and medical sector in the country.
She can be contacted at editorial@medicaldialogues.in.
Contact no. 011-43720751
................................ Advertisement ................................
7 comment(s) on WB Medical Council suspends 3 Apollo Gleneagles Hospital doctors on medical negligence