West Bengal: Death of businessman triggers rampage at N R S Hospital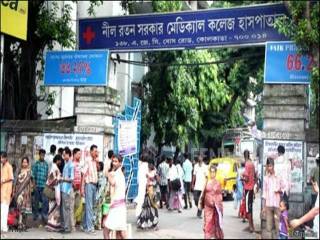 Kolkata: The death of a businessman in road accident triggered rampage at the government run N R S Hospital late tonight with the patients family attacking junior doctors alleging delay in treatment.
Kolkata Police sources said as per information businessman Zulfiqar Ahmed succumbed to his injuries at the Out Patient Department (OPD) shortly after being brought to the hospital after a road mishap at Sealdah.
As Ahmeds death news spread, people from his locality joined his family members in attacking junior doctors present alleging they did not start treatment on time.
A strong police contingent, including Deputy Commissioner level officers, rushed to the hospital compound as the junior doctors stopped work in protest.
Other junior doctors also rushed in from their hostels but were persuaded by the police not to retaliate, the sources said.
The junior doctors told visiting mediapersons in the hospital that the businessman was already in critical condition when he was brought to the hospital and died despite medical treatment.
The junior doctors demanded security and action against those involved in the attack.