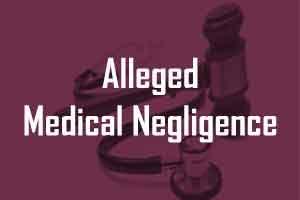 Kolkata:  Negligent treatment at a city hospital has turned a one-and-half-year-old baby into a lifeless vegetative state with 80 per cent brain death.
Avighna Saha was admitted at a medical facility this September with mild dehydration having symptoms as vomiting and the baby recuperated well within a day after some IV infusion of fluid, his mother Sweety Paul Saha and father Monojit Saha, also a photojournalist, said.
The baby was supposed to be discharged the next day but was injected Potassium Chloride (KCL) directly into the peripheral IV infusion line following which he collapsed, the mother alleged.
"My son was playing on the bed but within seconds when the nurse injected him the KCL directly into the peripheral IV infusion he collapsed," the mother alleged adding that the nurse who administered the injection on the baby was never seen again in the hospital.
Later, the baby was found to have suffered severe injury due to acute hypoxia with 80 per cent of his upper brain permanently damaged, her mother said.
Hospital authorities later asked the parents to take the baby to another medical facility.
"They (hospital authorities) gave us not only huge discounts on humanitarian grounds but also deposited a hefty amount for admission at the other medical hospital," the mother said.
The hospital in its transfer certificate has written the child had a sudden apneaic attack following feeding and put the entire blame on the mother.
"This is a case of absolute negligence and I never found the nurse who administered the injection on my baby that turned him into lifeless," she said.
Currently, the baby was being treated at the Institute Of Neurosciences Kolkata but doctors were of the opinion that there were little chance for the baby to get back to normalcy.
0 comment(s) on West Bengal: Parents slap medical negligence charge on private city hospital