When Social Media Helped Dismiss a Medico Legal Case with Claim of Rs 6 crore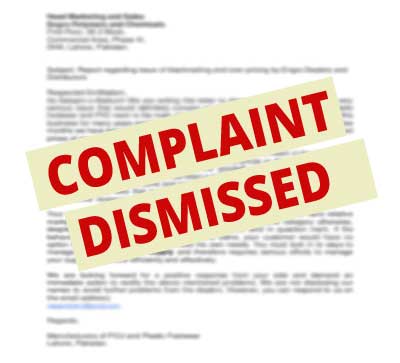 A highly inflated claim of Rs.6 Crore+ was dismissed, partly thanks to Social Media that showed how Complainant is hale and hearty. The case was filed with the National Consumer District Redressal Forum, by a patient who had undergone eye surgery. Blaming the doctors and Center for Sight, New Delhi Centre for lapses in the surgery, the complainant demanded a compensation having a total of more than Rs 6 crore.
Facts in short :
1. The Complainant underwent Torik Implantable Collamer Lens (TICL) due to his high myopic status & thin cornea. It was alleged that there were many lapses in performing TICL.
The Allegations may be arrayed as under :
a) The surgery was unsuccessful.
b) The behavior of doctors was bad and non-cooperative. The Opponent No.2 Dr. Mahipal Singh Sachdev and other doctors did not attend him properly. Dr Sachdev and his team of doctors failed to take timely precaution to avoid the spread of infection.
c) On 7.5.2014, the Complainant had to go to USA for examination of his eyes and even the doctors at USA said that nothing could be done to resolve the problem.
d) UBM test was not done at the initial stage; the white to white test (to check the diameter and Complainant's eye lens) was wrongly done and doctors at Hospital took a wrong measurement (size) of Implantable Collamer Lens.
e)The doctors performed multiple surgeries instead of re-positioning the small ICL and Doctors should have replaced the same with larger size ICL. The Doctors failed to diagnose recurring infection in the complainant's eye and they failed to find out the cause and nature of the infection.
f) The infection was disclosed at a very late stage by the doctors. If it would have been disclosed earlier, he would have taken a second opinion. Repeated surgeries lead to Infection that caused complete loss of vision of right eye.
g) After explantation of ICL, the Complainant started suffering from endophthalmitis, which was concealed by doctors.
h) His left eye also has poor vision and complainant is facing serious flashes in his left eye due to Posterior Vitreous Detachment and pain in the eye due to rotation of the lens. Multiple images are seen in his left eye followed by a severe headache. He is unable to read.
i) Due to wrong administration of the steroids, his lever is affected and has to get it tested every week.
j) The Complainant is unmarried and he may find it difficult to find a good match..
k) The Complainant's life is ruined due to negligence and hence he and his family are under depression and Complainant has suicidal tendencies and is taking psychiatrist treatment.
i) Thus he filed a complaint directly in National Commission for claiming compensation of Rs.6,03,20,000 under various heads viz. expenses relating to treatment, hospitalisation, medicine, conveyance and special diet, attendant charges, loss of earnings and future earnings, future medical expenses, damages for pain, suffering and trauma as a consequence of criminal negligence and injuries, loss of amenities of life, compensation for disability, loss of marriage prospects etc.
Defense :
1. The Doctors and the Hospital defended the case and refuted all the allegations. It was brought to the notice of the Court that the Complainant suppressed material facts from the Commission regarding his higher studies and job even after surgeries.
2. The FaceBook profile photos etc were produced before the Court to show that the Complainant was not suffering from any impediments in life.
Held :
1. The National Commission held that it Prima facie transpires from the record that the Complainant is hale and hearty having good social network. He is attending day to day activities and thus complainant had made false submission to the effect that his and future has totally been ruined.
2. The complainant has not indicated the basis for claiming a staggering and exaggerated amount of Rs.6,03,20,000/- as compensation.
3. The Complainant did not produce any documents to show that he has consulted other Doctors in Delhi as well as Doctors in USA.
4. Even the psychiatrist prescription does not prove that he is under any mental disorder.
5. The Court also observed that of-late the tendency of filing exaggerated claims is increasing.
6. Lastly, it was observed that the unrealistic claim has been made only with the view to confer pecuniary jurisdiction on this commission, which cannot be permitted. However, the Complainant was permitted to file fresh compliant if so advised, before the appropriate forum.
This is a very peculiar case indeed. Thanks to Social Media that brought the truth out. In these days social media has become an inevitable aspect of life and this is an example of good part of social media that nothing can remain hidden.
Great work done by Doctors in searching the Truth and that has helped them.
Its a settled law that Jurisdiction cannot be conferred by the Parties to the suit.
One more aspect is that as there is no Court Fee Stamp required to be paid while filing a compliant unlike a civil suit where depending upon the valuation, the court fee stamp is required to be paid. This case points out another reason to amend the CPA Act and to incorporate some penalty clause for frivolous litigation.
Thanks and Regards,
Adv. Rohit Erande
Pune. ©
Link :
http://cms.nic.in/ncdrcusersWeb/GetJudgement.do?method=GetJudgement&caseidin=0/0/CC/70/2016&dtofhearing=2018-05-10