Whopping 30 percent additional Allowance to Doctors who serve in Tribal areas: Gujarat Govt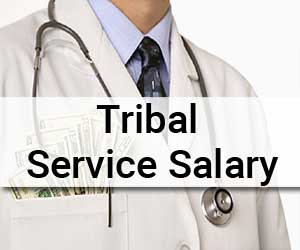 Gandhinagar: In order to address the shortage of doctors in the tribal regions, the Government of Gujarat is planning to pay 30% additional allowance to doctors serving at Government Hospitals in the tribal areas of the state.
Confirmation to this effect was by the Deputy Chief Minister of the state, Nitin Patel in the Assembly during a discussion on the budgetary demands of the Health Department.
Medical Dialogues had earlier reported that shortage of doctors at government hospitals ailed the public health care system in Gujarat, according to a report of the Comptroller and Auditor General (CAG).
Also Read: Shortage of doctors hitting Gujrat hard: CAG report
Though the Government of Gujarat had already mandated for the medical students to sign a bond of Rs 5 Lakh to serve in rural areas for a period of three years, till date, the government has reportedly recovered Rs 21.85 crore from doctors for violation of the bond.
Presently, a discussion in the assembly regarding the shortage of doctors was sparked wherein Patel stated that the Prime Minister, Narendra Modi has directed to focus on various backward districts including Dahod and Narmada by appointing medical practitioners.
"Recently, in a CM level meeting, in which I was also present along with other senior ministers, it was discussed that there is certainly a dearth of doctors. So, we are considering that in tribal areas – especially the priority districts of Narmada and Dahod, the state government will give 30% additional remuneration to those doctors who serve in those areas," Patel stated.
"We have considered it, but no decision has been taken yet," he added.
As per a report by The Indian Express, the senior-most MLA in Gujarat Assembly, Rathva stated that earlier the state government used to grant special Tribal Allowance to medical practitioners who served in government hospitals in tribal areas. However, it was discontinued.
In clarification of the same, Patel mentioned that following the recommendations made by the 5th Pay Commission, the allowances were put to a halt and a new pay structure was introduced by the state government for doctors in government hospitals.
"The Tribal Allowance should be revived so that people come to serve in tribal areas," Rathva told 
The Indian Express.
Another senior tribal Congress MLA, Vasava, stated that if the Tribal Allowance is revived, people will definitely come to serve in tribal areas.
According to a media report by the daily, during a discussion on the dearth of doctors in an earlier session in the Assembly, Patel had said, "There are a number of reasons for this dearth. Doctors, obviously, open their own clinics to do private practice. People also have a tendency of going to a private doctor more (than to go to a government doctor). A new trend has started whereby 8-10 doctors get together and start their own corporate hospital where all (medical) services are available… There are many doctors who go abroad…" Even if a person from a tribal or rural area becomes a doctor, he/she prefers to settle in urban areas, he added
Also Read: Pay 10,000 Doctors their Salary Dues: Gujarat HC slams State Govt